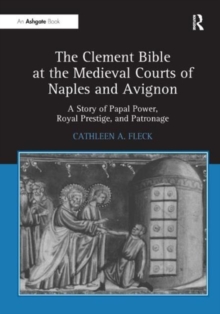 The Clement Bible at the Medieval Courts of Naples and Avignon : A Story of Papal Power, Royal Prestige, and Patronage
Hardback
Description
As a 'biography' of the fourteenth-century illustrated Bible of Clement VII, an opposition pope in Avignon from 1378-94, this social history traces the Bible's production in Naples (c. 1330) through its changing ownership and meaning in Avignon (c. 1340-1405) to its presentation as a gift to Alfonso, King of Aragon (c. 1424). The author's novel approach, based on solid art historical and anthropological methodologies, allows her to assess the object's evolving significance and the use of such a Bible to enhance the power and prestige of its princely and papal owners. Through archival sources, the author pinpoints the physical location and privileged treatment of the Clement Bible over a century.
The author considers how the Bible's contexts in the collection of a bishop, several popes, and a king demonstrate the value of the Bible as an exchange commodity.
The Bible was undoubtedly valued for the aesthetic quality of its 200+ luxurious images.
Additionally, the author argues that its iconography, especially Jerusalem and visionary scenes, augments its worth as a reflection of contemporary political and religious issues.
Its images offered biblical precedents, its style represented associations with certain artists and regions in Italy, and its past provided links to important collections. Fleck's examination of the art production around the Bible in Naples and Avignon further illuminates the manuscript's role as a reflection of the court cultures in those cities.
Adding to recent art historical scholarship focusing on the taste and signature styles in late medieval and Renaissance courts, this study provides new information about workshop practices and techniques.
In these two court cities, the author analyzes styles associated with different artists, different patrons, and even with different rooms of the rulers' palaces, offering new findings relevant to current scholarship, not only in art history but also in court and collection studies.
Information
Format: Hardback
Pages: 374 pages
Publisher: Taylor & Francis Ltd
Publication Date: 16/12/2010
ISBN: 9780754669807
Other Formats
Paperback / softback from £39.19
Also by Cathleen A. Fleck