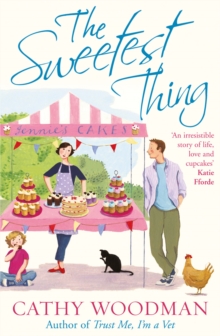 The Sweetest Thing : (Talyton St George)
Paperback
Description
The third novel in Cathy Woodman's hugely popular Talyton St George series.
Each book can be read as a stand alone novel, but if you'd like to read the books in order of publication, this list is for you.
Trust Me I'm a Vet; Must Be Love; The Sweetest Thing; It's a Vet's Life; The Village Vet; Vets in Love; Country Loving; The Three of Us (digital short story); and Follow Me Home.
Information
Format: Paperback
Pages: 400 pages
Publisher: Cornerstone
Publication Date: 28/04/2011
ISBN: 9780099551638
Free Home Delivery
on all orders
Pick up orders
from local bookshops
Reviews
Showing 1 - 2 of 2 reviews.
Review by juniperjungle
16/06/2015
I loved the sound of this book, as a country girl with a love of baked goods it sounded right up my street. I'd previously read and enjoyed Cathy Woodman's first novel, Under The Bonnet so I was keen to get reading.<br/><br/>The plot is pretty standard chick lit fare, the kind you start reading and it all feels comfortable and familiar. The book starts with the Copeland family's arrival at their new home, within the first chapter Jennie has crossed paths with potential love interest Guy (though of course we only guess who he is until the second chapter). They do the typical dance between disliking each other and liking each other with plenty of misunderstandings to keep them going. Beneath the expected love story however there is a subplot focussing on Jennie's relationship with her children and how they handle the move to the country. I liked this a lot, though for me it did feel like it got wrapped up a bit too easily and cleanly. I would probably have liked there to be a bit more of this plot within the book.<br/><br/>I liked the character of Jennie though at times I didn't agree with how she responded to things and thought that she walked herself into problems. I did find myself falling for Guy, exactly as you want to with any romantic love interest. There are plenty of laughs provided by Jennie's children, the younger two in particular are still at that age where they say exactly what their mum wouldn't want them to say, and Woodman uses this to great effect. The characters who already live in Talyton St George (there are two earlier books set there) are well created and jump off the page.<br/><br/>Each of the chapters has a type of cake as the title and Jennie makes this cake within the chapter. This led to what was probably my biggest quibble with the book. This isn't the first book I've read that has a baking theme but in the others either recipes or a link to a website with recipes has been included. When I got to the end of this book I didn't find any information about the recipes Jennie baked which was a real shame as there were a few that I would have been keen to have a go at. This didn't reduce my enjoyment of the book, but I do think that it is possibly a missed opportunity.<br/><br/>I enjoyed The Sweetest Thing, it was a gentle and fairly entertaining read. I'm not sure that I'd rush out to buy the other Talyton St George books but I'd probably pick them up at the library.
Review by whitreidtan
16/06/2015
The Sweetest Thing is indeed a sweet confection of a novel. One of former vet Cathy Woodman's Talyton St. George series set in lovely rural Devon, The Sweetest Thing is the story of Jennie Copeland, stay at home married mother of three who is gobsmacked when her philandering husband tells her he has fallen in love with his latest mistress and he wants a divorce. Choosing to start over completely, Jennie finds an old and charming home in Talyton St. George, several hours from London and determines to open a cake making business, a dream she's long deferred. But she's not the only one moving or facing life changes. Her three children, especially her teenaged son, have trouble adjusting to the new place and Guy Barnes, the initially gruff farmer next door who sold Jennie his mother's old house, is having trouble accepting new neighbors in his childhood home. Like Jennie, Guy has been crushed in love and the two are quite wary of each other to start. As Jennie and her children settle into the newly renamed Jennie's Folly, she tries very hard to help her children find happiness in this new town. She doesn't love animals but she seems to be acquiring a quite menagerie at the kids' request: a dog, an obstreperous pony, and a flock of hens. Since she is very definitely a city girl, she has to turn to neighbor Guy for help with the critters and the inevitable problems that come with owning furred and feathered creatures. She also has to try to make her way through the complex and set social structure of the town, never dreaming that opening a cake business would be so hard or such slow going. But she bakes to relieve stress and as a newly divorced woman trying to make it through the guilt, the recriminations, and the hatefulness that come with divorce, she bakes a lot, creating some fantastic sounding cakes. And despite her initial impression of Guy, as she gets to know him over the course of her first year, she realizes that he might be the stereotype of a taciturn farmer but he's also a warm and loving person she can always count on. Jennie and her children's transition to country living after a lifetime of living in London isn't smooth and her three definitely have some resentment about the divorce that tore them out of their comfortable life. And they do play up and manipulate her, making this story of moving, starting over, and maybe even finding love, all that much more realistic. Jennie herself is delightfully bumbling in many ways, not having understood the magnitude of the difference between living in a small market town and London. Her relationship with Guy is slow and interrupted by the realities of life. They face disagreements and misunderstandings and situations beyond their control. But in the end, the novel is just as promised, a sweet, rich cupcake of a love story sprinkled with children, critters, an enviable country life, and charming characters you can't help but root for.
Also in the Talyton St George series | View all