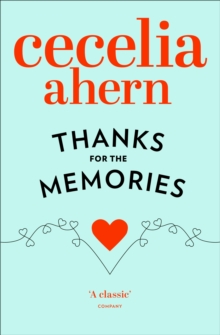 Thanks for the Memories
Paperback
Description
A compelling and perceptive tale of intimacy, memory and relationships from the No.1 bestselling author.How can you know someone you've never met?Joyce Conway remembers things she shouldn't.
She knows about tiny cobbled streets in Paris, which she has never visited. And every night she dreams about an unknown little girl with blonde hair.Justin Hitchcock is divorced, lonely and restless.
He arrives in Dublin to give a lecture on art and meets an attractive doctor, who persuades him to donate blood.
It's the first thing to come straight from his heart in a long time.When Joyce leaves hospital after a terrible accident, with her life and her marriage in pieces, she moves back in with her elderly father.
All the while, a strong sense of deja vu is overwhelming her and she can't figure out why ...
Information
Format: Paperback
Pages: 512 pages
Publisher: HarperCollins Publishers
Publication Date: 15/09/2008
ISBN: 9780007233694
Other Formats
EPUB from £4.49
eAudiobook MP3 from £6.39
Free Home Delivery
on all orders
Pick up orders
from local bookshops
Reviews
Showing 1 - 5 of 5 reviews.
Review by lesleymc
16/06/2015
Loved this book. An interesting way of telling a love story. However for me the relationship between the heroine and her father was what really gripped me. I found the interaction between the herione and her father brilliant. I could hardly put this book down and subsequently was reading through the night and when her father was causing problems at the airport and the subsequent rotating door incident I could not stop myself laughing out loud, much to my husband's annoyance. I fully intend to read more of Cecelia Ahern's novels.
Review by January_F
16/06/2015
A really enjoyable read. A light read, but still kept me really interested in the story and the characters. I love the humour, and Ahern's story telling is great.
Review by EmScape
16/06/2015
This adorable book, by the author of <i>P.S. I Love You</i> explores the relationship of two people connected by blood, but not in the way you might think. Justin is an architecture and art critic, guest lecturing in Dublin and talked into giving blood by a woman he wants a date with. Joyce receives a blood transfusion after she loses her baby and begins having memories and knowledge of art, architecture, and Justin's life. They are coincidentally drawn together, going through a series of near misses before finally meeting. If you think that paragraph gives away the entire book, you're wrong. It's the feelings and emotion of these two characters that really make up the book, much more than just the plot. The science behind this sort of connection is also interesting; I did some research and there really is some evidence that people having received blood or other organ transplants sometimes begin to crave foods they never liked before and, while not going so far as this book does, have some familiarity of people and places the donor was close to. It was very difficult to put this down once I picked it up. The constant suspense of "are they going to meet now? How about now?" is a definite page-turner. Also, this is much funnier than the other books I've read by Ahern, <i>P.S. I Love You</i> being more sad and <i>The Book of Tomorrow</i> more of a YA/paranormal mystery. Joyce's father is an absolute gem. However, I wanted there to be more from this book towards the end, with Joyce and Justin really getting to know each other and integrating into each other's lives. As it is [SPOILER] the book pretty much ends when they meet. Kinda disappointing, but still worth reading.
Review by Marlene-NL
16/06/2015
At first I thought the story a bit weird and the father a bit too annoying but boy did I laugh and a book that makes me laugh is a funny one. lol<br/><br/><br/>The part at the airport was hilarious with the father trying to get the luggage. I was in bed but was laughing like a crazy woman. and there were more moments.<br/>Yes I will definitely read more by this author.
Review by CarolBurnett
23/09/2015
This book is about courage and is inspirational. How this woman survived the war and how she lived her life after id incredible. Well worth reading