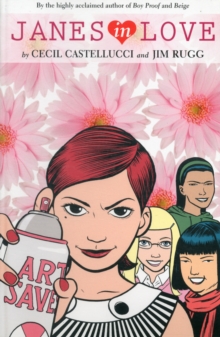 Description
Written by Cecil Castellucci Art and cover by Jim Rugg "This graphic novel for girls feels like a teen movie and teaches young women the joy of being original." - USA Today on The Plain Janes, Best Graphic Novels of 2007 The art attacks continue in this sequel to the acclaimed graphic novel THE PLAIN JANES.
The coolest clique of misfits ever plays Cupid and becomes entangled in affairs of the heart.
P.L.A.I.N. - People Loving Art In Neighborhoods - goes global when the art gang procures a spot in the Metro City Museum of Modern Art Contest. And the Janes will discover that in art and love, the normal rules don't always apply. Retailers: See this month's order form for a special ordering incentive on this title. Advance-solicited; on sale September 10 * 5.25" x 8" * 176 pg, B&W, $9.99 US
Free Home Delivery
on all orders
Pick up orders
from local bookshops
Reviews
Showing 1 - 5 of 7 reviews.
Previous | Next
Review by knielsen83
16/06/2015
A fun sequel to PLAIN Janes, involving a little more romance, a lot of art, and some seriously good times.
Review by terriko
16/06/2015
I admit, I was embarrassed to be seen reading this pink girly book, but it packs a surprisingly good little punch. It's always refreshing to see plucky characters with an interesting mission and a willingness to overcome obstacles to get things done, especially when wrapped in a cover that made this seem like a tale of overblown teenage hormones and bad chick lit. Glad to see this was actually a story for girls that's worth reading!
Review by DeltaQueen50
16/06/2015
Janes in Love carries on the story of one young girl, Jane that we were introduced to in Plain Janes. Jane is still hanging out with her friends, most of which are also called Jane. The story takes a light-hearted look at teen romance from different angles, but underneath tells the far more serious tale of how a family copes with fear. Jane and her family moved to this small town because of a terrorist attack in the big city. Now something happens to remind them of this event, and Jane's mother reacts by going into seclusion. Somehow, Jane and her father must find a way to reach her and bring her back into the world.Jane and her group still indulge in their art attacks, with the idea of making the world a more beautiful place, but these efforts are still vastly misunderstood by the police and town council. It takes winning an art grant and showing the community how beauty can enhance their community that eventually wins the day.I thought this was a worthy sequel to the original, but perhaps a little less magical and awe inspiring. I was glad though to see a lot of the story wrapped up and an apparent bright future for the Janes. This graphic novel series about a group of misfits discovering art, life and love was an enjoyable read.
Review by fyrefly98
16/06/2015
Summary: In Janes in Love, the Janes have mostly given up their guerilla art campaign after the New Year's Eve incident, and have turned their attention to matters more personal. But Jane is finding out that neither art nor love is particularly easy, and that in order to find one, she'll have to pursue the other.Review: In this volume we do see some more from the other Janes, but I still felt like the story was not as well rounded as it could have been. While there was an interesting story and a good message, it all primarily focuses around Jane, and I think that it would have been a deeper and more compelling story if we'd gotten the bigger picture. Art Saves Jane, and maybe Art Saves Jane's town, but what saves Jayne? Or Polly Jane? The other Janes don't really have the depth of characterization as Main Jane, and even in this volume are occasionally treated as little more than comic relief. Developing them more as characters, and focusing more on their relationships, both with each other and with the wider world, would have helped. However, I still appreciate the themes behind the story, about the power of creativity and expression, and I especially liked the message that if a crush doesn't like you back, it's not the end of the world, or of your worth as a person. Overall, these were a quick, cute read, with an interesting take on fear and art and community and fitting in and expressing oneself. 4 out of 5 stars.Recommendation: While I think this would appeal most strongly to aspiring artists, it should be enjoyable for anyone who felt like their high school just didn't get it.
Review by JenJ.
16/06/2015
In this sequel to <i>The Plain Janes</i>, which follows almost immediately on the action from the first graphic novel, Valentine's Day is approaching leading the Janes to focus on their relationships - or lack thereof. Main Jane's sort-of crush Damon is doing community service since he got caught at the New Year's art attack. Then, after all the Janes but Theater Jane get caught performing their next art attack, main Jane begins to question whether what they're doing is right if it gets everyone in trouble. Miroslaw, the Polish boy Jane helped save during the Metro City bomb incident, inspires Jane to try legitimizing her street art by getting grant support, but convincing others that the art attacks constitute real art is an uphill battle. In the meantime, thanks to an anthrax scare, main Jane's mom won't leave the house. What's a Jane to do?<br/><br/>Definitely not a stand-alone episode, <i>Janes in Love</i> will be most appreciated by those who have read the first graphic novel recently. The characters remain nicely rounded with realistic strengths and weaknesses for teenagers. This feels like there's plans for another following story (maybe with main Jane in Poland for the summer?), but with publisher Minx folding, I'm not sure how that would work.<br/><br/>Previously read January 21, 2009. Just noticed upon re-reading that the flyers advertising the dance were for an Ides of March dance, but the banner at the dance claims it's a Leap Day Dance - a minor, but odd, inconsistancy.
Also by Cecil Castellucci