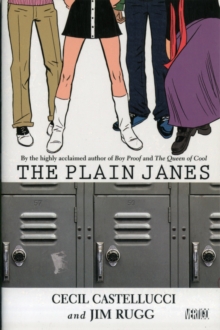 Description
Written by Cecil Castellucci Art and cover by Jim Rugg When a transfer student named Jane is forced to move from the cool confines of Metro City to Suburbia, she thinks her life is over. But there in the lunch room at the reject table she finds her tribe: three other girls named Jane.
Main Jane encourages them to form a secret art gang and paint the town P.L.A.I.N. - People Loving Art In Neighborhoods. But can art attacks really save the hell that is high school?
Advance-solicited; in stores May 16 * 176 pg, 5.25" x 8", B & W, $9.99 US Edited by Shelly Bond PRODUCT UPDATE (080107): Plain Janes was erroneously listed on the July 18 Order Status Report as a stripped cover return.
In fact, this book is eligible for full copy returns only, beginning August 15.
Retailers will be notified of the title's status on the Order Status Reports that accompany their August 15 invoicing.
Diamond apologizes for any confusion created by this error.
Retailers with additional questions should contact their Diamond Customer Service Representative.
Information
Format: Paperback
Pages: 176 pages
Publisher: DC Comics
Publication Date: 02/05/2007
Category: Comics and Graphic Novels
ISBN: 9781401211158
Free Home Delivery
on all orders
Pick up orders
from local bookshops
Reviews
Showing 1 - 5 of 44 reviews.
Previous | Next
Review by susansmpdx
16/06/2015
Great story of regular girls, all named a variation of Jane, who find their place in town with art attackes.Graphic Novel
Review by abbylibrarian
16/06/2015
After Jane was present at an attack on Metro City, her family moves out to the suburbs where they think they will be safer. Jane eventually befriends a group of girls who are also named Jane and they form an art girl gang, arranging "art attacks" on the neighborhood. Great characters and an interesting call to action. I hope there are more books about the PLAIN Janes.
Review by cindysku
16/06/2015
Jane has just survived a terrible bombing in Metro City and the bombing has had a drastic effect on Jane's life. Jane has cut off her hair and dyed it black and her friends do not understand her. Her overprotective parents have forced to her to move to the suburbs to be safe. Jane makes a choice not to be part of the status quo and joins a group of friends who are in the uncool crowd and also happen to be named Jane. Jane is inspired by a sketchbook called Art Saves; she finds that belonged to a bomb victim who is in comb. She is inspired to change her life by the title of the sketchbook and launches a group Called P.l.a.i.n., People Loving Art In Neighborhoods, that instead of terrorist attacks create works of art called art attacks on different properties. Jane must fight through her fears after the bomb to be able to move on and not let her fears dominate her life like her parents have done. This is an important message in the post 9/11 world. It is important to not become paralyzed by your fears but to keep going. The illusions by Jim Rug are well drawn and really add to the story. This is Cecil Castellucci's first graphic novel and it is a triumph of the genre.
Review by ohioyalibrarian
16/06/2015
After a bombing in Metrocity (which looks just like New York after 9/11), Jane's parents move out of the city into a "safer" suburb. Follow Jane as she tries to cope with the move and the tragedy she survived in this book about the healing properties of art and how life must go on.
Review by specialibrarian
16/06/2015
Jane is whisked away from Metro City after she is a part of the collateral damage of a domestic terrorist attack. This event causes Jane's parents to move them all to the safe suburbs. As Jane puts the herself back together again, she finds that there are new things that she finds important and art does save.