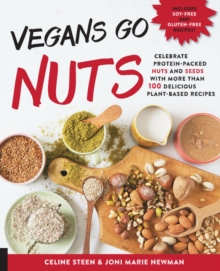 Vegans Go Nuts : Celebrate Protein-Packed Nuts and Seeds with More than 100 Delicious Plant-Based Recipes
Paperback / softback
Description
the ultimate guide to protein-packed, nut-filled vegan recipes!If you think nuts are just for snacking, get ready to have your world rocked!
One of the most nutritious, protein-packed staples of a plant-based diet, nuts can be used in limitless ways to create satisfying meals full of hearty flavor.
From main courses, to snacks and drinks, to desserts and cheeses, nuts are used as the main building block of so many delicious vegan recipes. Vegans Go Nuts explores the many ways to cook and bake with nuts, using only vegan ingredients.
From the usual suspects such as cashews and peanuts, to more underrated nuts and seeds like hemp and hazelnuts, you'll start by learning to make the essentials - nut and seed milks, butters, and flours.
Accomplished authors Celine Steen and Joni Newman will show you just how versatile this staple food can be in your plant-based diet. Go nuts with 100 vegan recipes, including:Peanut Butter FarinaHazelnut Chocolate Chip MuffinsBasic Chickpea Cashew OmeletHawaiian Macadamia TacosSimple Nutty CheeseNut Butter Roasted CauliflowerPistachio Orange Beet PilafRocky Road PieMake nuts the inspiration of your meal, instead of just an afterthought, with Vegans Go Nuts!
Information
Format: Paperback / softback
Pages: 176 pages, 50 color photos
Publisher: Fair Winds Press
Publication Date: 22/06/2016
Category: Vegetarian cookery
ISBN: 9781592337255