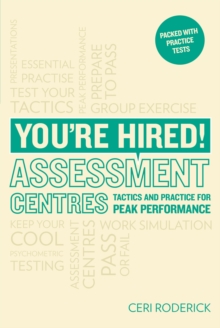 You're Hired! Assessment Centres: Essential Advice for Peak Performance
Paperback / softback
Description
You've applied for a job or graduate recruitment scheme and now have to make it through the assessment centre selection process.
You're going head-to-head with many other impressive - and competitive - candidates for the job so need to stand out as the winning applicant.
Scared and nervous, how to you perform your best on the day? Find out how inside to deliver your peak performance at an assessment centre.
Packed with sample questions and practise examples, you can prepare for every test you'll face at the assessment centre to enhance your chance at success.
Full of insider advice from the people who prepare assessment centre tests, discover how to boost your scores and impress employers with your performance. Notoriously rigorous (and gruelling), assessment centres offer you a great opportunity to show off your skills and competencies - as long as you are prepared and confident.
From work simulations, role plays and group exercises to presentations, interviews and psychometric tests, in order to succeed you need to be ready for a wide variety of assessment exercises. You're Hired! Assessment Centres prepares you for this and more - find out how to: -Enhance your performance at an assessment centre -Boost your confidence in role playing and interviews -Impress assessors with your skills and competencies -Deliver great presentations -Excel in group exercises Large companies use assessment centres to help them whittle down job applicants and assess your suitability to their organisation.
Whether you're looking for your first graduate job or have to face an assessment centre as part of the recruitment process, make sure you impress and perform to the best of your ability. You're Hired! Assessment Centres is written by psychologists who specialise in recruitment.
Experts in designing and delivering assessment programmes, they have created selection and interview systems for some of the world's most prestigious employers; from law firms to major accountancy firms and from pharmaceuticals businesses to high street retailers. The You're Hired! series shows job hunters how to research, apply for and land the job of their dreams.
Each book is filled with tips, advice and useful exercises to help prepare for every stage of the job search.
Other books in the You're Hired! series include... You're Hired! CV You're Hired! Interview You're Hired! Interview Answers You're Hired! Psychometric Tests You're Hired! CVs, Interviews & Psychometric Tests
Also by Ceri Roderick