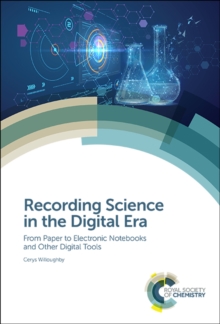 Recording Science in the Digital Era : From Paper to Electronic Notebooks and Other Digital Tools
Hardback
Description
For most of the history of scientific endeavour, science has been recorded on paper.
In this digital era, however, there is increasing pressure to abandon paper in favour of digital tools.
Despite the benefits, there are barriers to the adoption of such tools, not least their usability.
As the relentless development of technology changes the way we work, we need to ensure that the design of technology not only overcomes these barriers, but facilitates us as scientists and supports better practice within science.
This book examines the importance of record-keeping in science, current record-keeping practices, and the role of technology for enabling the effective capture, reuse, sharing, and preservation of scientific data. Covering the essential areas of electronic laboratory notebooks (ELNs) and digital tools for recording scientific data, including an overview of the current data management technology available and the benefits and pitfalls of using these technologies, this book is a useful tool for those interested in implementing digital data solutions within their research groups or departments.
This book also provides insight into important factors to consider in the design of digital tools such as ELNs for those interested in producing their own tools.
Finally, it looks at the role of current technology and then considers how that technology might develop in the future to better support scientists in their work, and in capturing and sharing the scientific record.
Free Home Delivery
on all orders
Pick up orders
from local bookshops