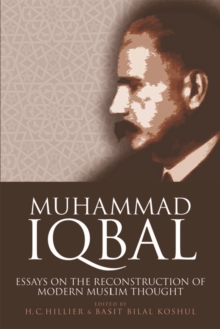 Muhammad Iqbal : Essays on the Reconstruction of Modern Muslim Thought
Hardback
Description
This book examines the ideas central to Muhammad Iqbal's thought and life: religion, science, metaphysics and nationalism.
Commonly known as the 'spiritual father of Pakistan', the philosophical and political ideas of Muhammad Iqbal shaped the face of Indian Muslim nationalism and the direction of modernist reformist Islam around the world.
This volume brings together a range of prominent and emerging voices within American and European Islamic studies to share the latest developments on Iqbal's thought.
They re examine the ideas that lie at the heart of Iqbal's own thought: religion, science, metaphysics, nationalism and religious identity, and bring out many new connections between the 'Sage of the Ummah' and the greatest thinkers and ideas of European and Islamic philosophies.
It responds to the recent rediscovery of Iqbal's thought within Anglo American scholarship on Islam.
It provides an examination of ideas central to Iqbal's thought: the connection between religious belief and modern knowledge, the expression of Islamic belief through modern concepts and the political dimension of Muslim identity. It shows new connections between Iqbal and his contemporary European philosophers, including Bergson, Pierce, and Whitehead.
Information
Format: Hardback
Pages: 256 pages
Publisher: Edinburgh University Press
Publication Date: 30/07/2015
Category: Islamic & Arabic philosophy
ISBN: 9780748695416