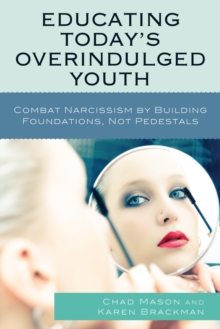 Educating Today's Overindulged Youth : Combat Narcissism by Building Foundations, Not Pedestals
Paperback
Description
This book examines narcissistic, self-absorbed attitudes and behaviors of individuals and the effects of these attitudes and behaviors on the American school system.
As the effects are widespread and detrimental, the book also discusses multiple strategies to combat narcissism in schools.
Extensive reading, critical observation, and nearly 35 years of combined educational experience led to the formation and completion of this project.
Research was collected from over 40 sources including books, periodicals, newspaper articles, interviews, and workshops.
Specifically, the book defines narcissistic qualities, identifies long-term societal effects of narcissistic living, discusses narcissism in relation to child development, and extensively examines narcissism in the school setting (the people and practices).
The book challenges teachers, counselors, and administrators to reflect on their role in educating the narcissistic population and to adopt strategies to reverse the growing trend. In turn, educators are encouraged to foster a learning experience that promotes greater responsibility, durability, and independence on the part of the learner and that emphasizes the concept of living, learning, and working for the 'greater good' in our society.
Other Formats
Hardback from £42.19
PDF from £66.24
Free Home Delivery
on all orders
Pick up orders
from local bookshops