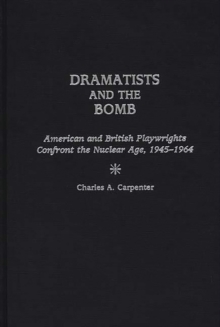 Dramatists and the Bomb : American and British Playwrights Confront the Nuclear Age, 1945-1964
Hardback
Description
While the atomic bombing of Hiroshima and Nagasaki secured an American victory in the Pacific and hastened the end of World War II, it also ushered in an era of fear.
When the Soviets developed an atomic bomb, the United States ceased to be the world's only nuclear power.
Americans feared a nuclear attack by the Soviets, while the British worried about being drawn into a nuclear conflict for which they were utterly unprepared and particularly vulnerable.
The threat of nuclear war left a lasting mark on the British and American imagination.
Like other creative artists, playwrights began to grapple with the terrifying implications of a nuclear holocaust.
This study reveals how English-speaking dramatists, both major and minor, reacted to the stunning events of the Atomic Age and the early thermonuclear era. Moving from American to British responses, the book describes more than 25 plays and quotes a variety of reflections on the bombing of Japan, the evolution of the Cold War, the development of more and more refined atomic weapons, the proliferation of fallout shelters, and the occurrence of strategic crises, such as those in Suez, Berlin, and Cuba.
The American plays are generally inferior to the British, with less experienced playwrights attacking a wide range of subject matter and experimenting with several dramatic styles.
British plays more frequently protest the threatened imposition of an American-Soviet conflict upon their offshore island.
The book concludes with a study of how Samuel Beckett's Endgame reflects a human dilemma distinctive to the Nuclear Age.
Free Home Delivery
on all orders
Pick up orders
from local bookshops
Also by Charles A. Carpenter