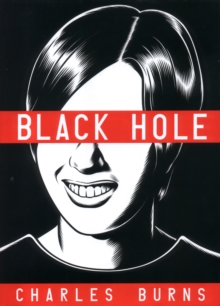 Description
And you thought your adolescence was scary. Suburban Seattle, the mid-1970s. We learn from the outset that a strange plague has descended upon the area's teenagers, transmitted by sexual contact.
The disease is manifested any number of ways - from the hideously grotesque to the subtle (and concealable) - but once you've got it, that's it.
There's no turning back. As we inhabit the heads of several key characters - some kids who have it, some who don't, some who are about to get it - what unfolds isn't the expected battle to fight the plague, or bring heightened awareness of it, or even to treat it.
What we become witness to instead is a fascinating and eerie portrait of the nature of high-school alienation itself - the savagery, the cruelty, the relentless anxiety and ennui, the longing for escape. And then the murders start. As hypnotically beautiful as it is horrifying (and, believe it or not, autobiographical), Black Hole transcends its genre by deftly exploring a specific American cultural moment in flux and the kids who are caught in it - back when it wasn't exactly cool to be a hippie any more, but Bowie was still just a little too weird.
To say nothing of sprouting horns and moulting your skin . . .
Information
Format: Hardback
Pages: 368 pages
Publisher: Random House Children's Publishers UK
Publication Date: 01/10/2005
Category: Fantasy
ISBN: 9780224077781
Free Home Delivery
on all orders
Pick up orders
from local bookshops
Reviews
Showing 1 - 3 of 3 reviews.
Review by rrees
16/06/2015
A disturbing view of teenage sexuality with images that are simultaneously beautiful and repulsive.
Review by jbrubacher
16/06/2015
A sexually-transmitted plague goes through the teenagers of a community, who each deal with it in their own way. Sometimes it's obvious they've got it, and sometimes no one knows. Some of them try to deal with it, some try to disappear, some because lunatics.This is a fascinating book with a lot of impressive and often disturbing artwork. I found myself interested in many of the characters, even though a lot of their inner monologue was kind of predictable teenaged emo. The end of the story let it down, because despite the characters and the premise there didn't seem to be a point to it all. It became slightly more gratuitous and there was a sort of mystery, but the mystery didn't really matter in the end.
Review by kinsey_m
16/06/2015
The whole atmosphere of the book is so well done that when I learnT about the solution to the mistery bit I was almost disappointed. Although it loses a bit of steam towards the end, I would definitely recommend it to anyone that enjoys graphic novels with a dark touch.