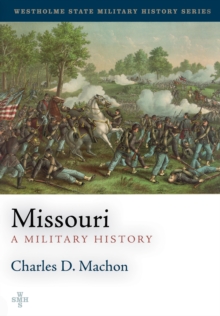 Missouri: A Military History
Hardback
Description
Missouri can trace its military history back to some of the earliest explorers, such as Hernando de Soto and Robert de La Salle.
The area that became the state of Missouri has been involved in every conflict in the nation's history from the Revolutionary War-the British and their American Indian allies attacked St.
Louis on May 25, 1780, the only battle west of the Mississippi in that war-to the present. The nineteenth century saw Missouri involved in many regional conflicts, such as the 1839 Iowa, or Honey,War over the disputed border between the two states and the unfortunate Mormon War which gave rise to the now infamous Extermination Order of Governor Lilburn Boggs, authorizing the forced eviction and killing of Joseph Smith's followers.
Missouri provided two regiments for service in the Mexican War, but it was the bitter border war with Kansas in the 1850s over slavery that began years of some of the most brutal fighting endured by any state in the Union.With the eruption of the Civil War, the conflict in Missouri took a fever pitch, with both the Union and the Confederacy desperately trying to keep the state and its citizens in their orbit.During the Civil War, African Americans saw battle for the first time at Island Mound, Bates County, in October 1863, months before Massachusetts organized its famous 54th Infantry Regiment. The First World War saw tens of thousands of Missourians serving their country, including a young Captain, Harry S Truman, commander of Battery D, 35th Infantry Division.
Missouri remains on the forefront of American military history with its National Guard providing exemplary service in both Iraq and Afghanistan.
Information
Format: Hardback
Pages: 376 pages, 75 b/w, maps
Publisher: Westholme Publishing, U.S.
Publication Date: 28/02/2015
Category: History of the Americas
ISBN: 9781594162152
Free Home Delivery
on all orders
Pick up orders
from local bookshops