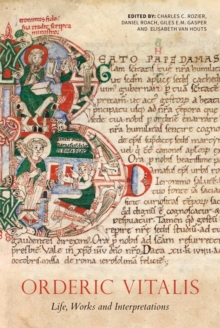 Orderic Vitalis - Life, Works and Interpretations
Hardback
Description
The Gesta Normannorum ducum and Historia ecclesiastica of Orderic Vitalis are widely regarded as landmarks in the development of European historical writing and, as such, are essential sources of medieval history for students and scholars alike.
The essays here consider Orderic's life and works, presenting new research on existing topics within Orderic studies and opening up new directions for future analysis and debate.
They offer fresh interpretations from across the disciplines of medieval manuscript studies, English-language studies, archaeology, theology, and cultural memory studies; they also revisit established readings. CHARLES C. ROZIER gained his PhD from the University of Durham; DANIEL ROACH gained his PhD from the University of Exeter; GILES E.M.
GASPER is Senior Lecturer in History, University of Durham; ELIZABETH VAN HOUTS is Honorary Professor of Medieval European History, University of Cambridge. Contributors: William M. Aird, Emily Albu, James G. Clark, Vincent Debiais, Mark Faulkner, Giles E. M. Gasper, Veronique Gazeau, Estelle Ingrand-Varenne, Elisabeth Megier, Thomas O'Donnell, Benjamin Pohl, Daniel Roach, Thomas Roche, Charles C.
Rozier, Sigbjorn Olsen Sonnesyn, Kathleen Thompson, Elisabeth van Houts, Anne-Sophie Vigot,Jenny Weston
Information
Format: Hardback
Pages: 432 pages
Publisher: Boydell & Brewer Ltd
Publication Date: 21/10/2016
Category: European history
ISBN: 9781783271252