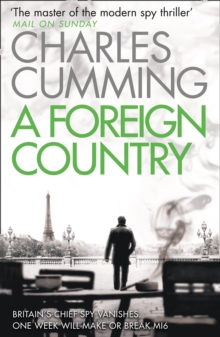 A Foreign Country
Paperback
Description
Winner of the CWA Ian Fleming Steel Dagger 2012 for Best Thriller of the Year.
Selected by the Sunday Times and the Guardian as Best Thriller.
Perfect for fans of John le Carre, a gripping and suspenseful spy thriller from `the master of the modern spy thriller' (Mail on Sunday)Six weeks before she is due to become the first female head of MI6, Amelia Levene disappears without a trace.Disgraced ex-agent Thomas Kell is brought in from the cold with orders to find her - quickly and quietly.
The mission offers Kell a way back into the secret world, the only life he's ever known.Tracking her through France and North Africa, Kell embarks on a dangerous voyage, shadowed by foreign intelligence services.
This far from home soil, the rules of the game are entirely different - and the consequences worse than anyone imagines...
Information
Format: Paperback
Pages: 416 pages
Publisher: HarperCollins Publishers
Publication Date: 01/09/2012
Category: Espionage & spy thriller
ISBN: 9780007346431
Free Home Delivery
on all orders
Pick up orders
from local bookshops
Reviews
Showing 1 - 2 of 2 reviews.
Review by abbottthomas
16/06/2015
I picked this book up after a recommendation in a collection of summer reads from a group of lawyers in <I>The Times</I>. It had been well received - CWA Ian Fleming Steel Dagger, Thriller of the Year in several national newspapers - but I was rather disappointed by it. The book begins with three brief vignettes of apparently completely unrelated action. We are then introduced to our principal character, Thomas Kell. Since George Smiley, the idea of a hero as a former, discredited spy recalled to duty to deal with a problem too secret for the spook establishment has become something of a cliché, but here is Kell in the same position. The story touches on contemporary issues such as extraordinary rendition, torture of jihadists and the Arab Spring and is very dependent on the increasing involvement of the private sector in security matters: most of the good guys, at least, are paid for out of some reptile fund or personal accounts and even the bad guys seem to be privatising themselves by the end of the book. The choice of 'enemy' is interesting. This has been a major problem for spy novelists since the Germans and then the Russians moved off stage. Al Qaeda and other radical Islamists are useful for TV dramas such as <I>Spooks</i> but don't seem to work well for the spy-versus-spy kind of plot. Further discussion would count as a 'spoiler', but the solution is novel. The action sequences are pretty well done - I particularly enjoyed a complicated page or two where Kell and his mates are trying to follow someone who's route starts in the men's clothing department of the Salisbury Marks &amp; Spencer, takes in much of the rail network of London's commuter belt and ends in the lavatory of Heathrow Terminal 5's prayer room..As an elderly, public school and Oxbridge educated Englishman brought up on Buchan, Somerset Maugham, Fleming, Deighton and, particularly, Le Carre, I like my spy stories to be based on establishment organisations and attitudes, even if full of moles and bad behaviour. I also like there to be a chill in the air which is rather lacking in <I>A Foreign Country</I>. The most appropriate word I can find for the ending is 'cosy'. SIS, particularly in its personnel vetting, does not come over well, and all the good work done by freelancers. I might try <I>The Trinity Six</I> which other reviewers have liked but I won't rush to follow the further adventures of Thomas Kell
Review by Speesh
16/06/2015
There's no doubt this is better, much better than the last one of his I read (A Spy By Nature). More coherent, more interesting and without a middle section that sagged like...well, my middle section.<br/><br/>But…there's a but. Well, it's labeled a thriller, but it most certainly isn't. A thriller. Not what I'd call a thriller anyway. It is mostly mildly, to quite interesting and there are a couple of incidents which do come within binocular distance of thrilling. Though when the main man's attempt to have a hotel night porter distracted by some retired, bit-part spy helpers, long enough so he can check the hotel's computer register is the most thrilling part of the first 176 pages, you begin to wonder if I haven't been working from a different dictionary definition for 'thriller' all these years. Maybe I'm calling for a new way of determining if a book is a thriller or not, the thrill percentage in a Charles Cumming book is far to low for it to be labeled a thriller, in my book. The interest evel is ok, but not more than mildly diverting.<br/><br/>And another area where the PR people could once again probably be described as being a little too over enthusiastic, is in the comparisons appearing on the book jacket. Sticking John Le Carre's name on there somewhere will always sell books. Even if it isn't written by the great man. And even, as here, you're sticking the name of perhaps his most well known/loved character on the back, it probably still works. Which is why they've done it. And I suppose you can't blame Harper Collins for highlighting the reviews that bandy Le Carre about. But, and as I noted in my review for his previous one, I think they must have read a different book to the one I read. And le Carre fans, of whatever era, are going to be disappointed and wondering if the 'Smiley' mentioned, isn't actually the name of the neighbours' dog (as ours' is).<br/><br/>The thrills, such as they are, are in the first half, and based on the anticipation that comes with the feeling that 'now...this is going somewhere…' But are ultimately they're not there - the thrills - because the book doesn't get there. Either where you want it to, or where it should. But I'm not wanting to be too negative, as - amazingly enough - there are good parts.<br/><br/>The book actually delivers in part on its reviewers promise mostly in the second half. It is almost tense and mostly exciting, it is about an operation carried out maybe in a more modern style than Le Carre and Smiley's heyday, but in the same ballpark. It doesn't include any giant explosions and international incidents - even though it involves the old enemies of official UK secret services and their French counterparts, it's all stuff that could be swept under the carpet, officially denied and life got on with in an air of mutual distrust even hatred (if you want to look at it as reflecting the real world). So no change there then. The final action is good enough and is well-handled. Maybe it all goes a little too smoothly, and I thought it could have been, if not should have been, expanded by 50 or so pages. It felt a little like 'ok, we'll do this and that, they'll obviously do that and this', let's go - and it all happened the way it had been explained as a plan so there wasn't the need to go into the detail that an Eric Van Lustbader would have. It all felt like Cumming had had the idea for his next book and wanted to get this one done with and out of the way so he could get on with that.<br/><br/>The main man, Kell, despite the daft name, is an interesting character. Cumming has hinted at some baggage there and I'd like to see him in other stories. He reminds me a little of Jeremy Dunns' 'Paul Dark', maybe a little more ordinary (he's never going to be in charge at SIS for example, is our Kell), though as I don't know where A Foreign Country fits in Cummings' great scheme of things, I don't know if I'll meet him again.<br/><br/>All in all an ok to good read and I can recommend it more than the last one. Still not up with where the reviewers seem to have been with it, but getting there.
Also in the Thomas Kell Spy Thriller series | View all