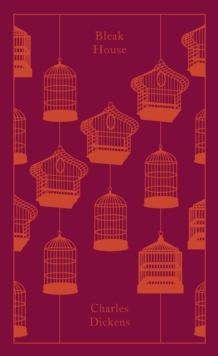 Description
Part of Penguin's beautiful hardback Clothbound Classics series, designed by the award-winning Coralie Bickford-Smith, these delectable and collectible editions are bound in high-quality colourful, tactile cloth with foil stamped into the design.
As the interminable case of Jarndyce and Jarndyce grinds its way through the Court of Chancery, it draws together a disparate group of people: Ada and Richard Clare, whose inheritance is gradually being devoured by legal costs; Esther Summerson, a ward of court, whose parentage is a source of deepening mystery; the menacing lawyer Tulkinghorn; the determined sleuth Inspector Bucket; and even Jo, the destitute little crossing-sweeper.
A savage, but often comic, indictment of a society that is rotten to the core, Bleak House is one of Dickens's most ambitious novels, with a range that extends from the drawing rooms of the aristocracy to the poorest of London slums.
Information
Format: Hardback
Pages: 1088 pages
Publisher: Penguin Books Ltd
Publication Date: 06/10/2011
Category: Classic fiction (pre c 1945)
ISBN: 9780141198354
Other Formats
Paperback from £2.50
Hardback from £8.89
Mixed media product from £12.17
PDF from £4.66
EPUB from £1.94
Free Home Delivery
on all orders
Pick up orders
from local bookshops
Reviews
Showing 1 - 3 of 3 reviews.
Review by bookworm12
16/06/2015
If Dickens was on facebook, my relationship with him would be "It's Complicated." After a decade of reading his books I feel like I've developed an appreciation and love for his work. I read and enjoyed Christmas Carol and Tale of Two Cities, but I really didn't like Oliver Twist. Great Expectations and David Copperfield were the turning point for me. I adored both of those books and I think because of that, my hopes for Bleak House were incredibly high. I was extremely excited about Bleak House, it's often called Dicken's masterpiece. Even the name is gothic and mysterious and it has Dicken's only female narrator. But I should have remembered that Dicken's work was originally printed in monthly installments in the paper and he was paid by the word. This beast clocks in at more than 1,000 pages. I made a major mistake when I read Bleak House. I was reading Moby Dick and Cloud Atlas at the same time. Both of those books are a lot to process on their own without adding in the wordy Mr. Dickens and his 702 characters and their crazy names! If I'd focused only on Bleak House and I think I would have enjoyed it more. The plot is so convoluted and I felt like I was trying to keep everyone straight for the whole first half of the book. The plot grew on me once I had a chance to get to know a few of the characters. Like all good Dickens novels there is a huge cast with intertwining story lines. There are orphans and rich people, lawyers and lords. It's hard to jump right into these books because you really have to get to know everyone first. It takes such a long time to figure out who everyone is and really get into the story. The whole book revolves around a complicated court case called Jarndyce v Jarndyce that has stretched on for decades. There has been no resolution; people have gone broke and committed suicide over the case after hanging their hopes on its outcome and hoping they would inherit the massive fortune. Half of the book focuses on the wealthy Lady Deadlock and her elderly husband. She lives an unhappy life, filled with secrets, in the old mansion called Chesney Wold. We bounce back and forth between an omniscient narrator who tells her story and the character of Esther, who narrates in the first person. The book's second plot line involves Ada and Richard, cousins who are both wards of the case. Their fates and fortunes are unknown until the case is resolved. Esther is a young woman who has been raised by her aunt. A man named John Jarndyce decides to take Ada and Richard into his home and he hires Esther as a companion for Ada. All of that and I haven't even touched on half the characters! There's the mysterious Nemo, manipulative Tulkinghorn, the Jellyby family with their distracted mother and sweet daughter Caddy, Lady Deadlock's crazy maid Hortense, Mr. Snagsby, combustible Krook, loyal George, wonderful Allan Woodcourt, Esther's maid Charley, Inspector Bucket and more! Obviously I wasn't kidding when I said this novel had an overload of characters and subplots.  SPOILERS At first I had some serious issues with the main characters. Esther was just a bit too nice and accommodating. She sounds a bit like Jane Eyre whenever we read chapters that she's narrating, but she doesn't have the same spunk or view of self-worth. I wanted her to stand up for herself or decide to pursue something that she loved. The moments I liked her best were the ones where she held someone else (like Mr. Skimpole) accountable for their actions. Richard was just hopeless, why wouldn't he give up the case! It was so distressing to watch him waste away as he threw his money towards the case. I wanted so badly for him to understand that his life was with Ada and she was worth so much more than the case.   Mr. Skimpole was captain creepy pants with his "I'm just a child" nonsense and I wanted to smack him in the face. People like that are just the worst. I love how Dickens can create such wonderful villains, sometimes they are evil because they are weak and devious, instead of being outright bad people. Mr. Guppy was another odd one. He believed he fell in love at first sight, but it was really just a shallow infatuation that brought out his stalker qualities. The entire Jarndyce v Jarndyce fortune was eaten up by court costs just as they finally figured out who the money was going to go to. I couldn't believe it when that happened! I was shocked when Esther got smallpox too. There were all these major plot points that caught me off guard and I really liked that. I thought Esther was going to end up with her guardian until the very last moment and I was pissed! I am so glad it didn't turn out that way or I might have hated it. Oh yeah, someone dies of spontaneous combustion… seriously. I was a bit surprised by that. SPOILERS OVER BOTTOM LINE: I think this is one that will undoubtedly benefit on a reread. After I got through the first third I really enjoyed it, but it was much tougher than most of the Dicken's I've read up to this point. If you're thinking about dipping into his work, don't start here. I would recommend reading Great Expectations or David Copperfield and seeing if they work for you. Dickens builds wonderful stories and gives readers some of the best characters (both good and bad) that they'll ever encounter. I know that I'll continue to work through his catalogue and I'll reread this one in a few years. SIDE NOTE: I would highly recommend the 2005 BBC miniseries of Bleak House. I watched it after finishing the novel and it was excellent.
Review by tomcatMurr
16/06/2015
February 7th 2012Dear Mr Dickens,Thank you for the submission of your manuscript '<i>Bleak House'</i> to Simian and Shyster, America's Biggest and Best Books™. We are interested in your book, but feel that substantial changes will need to be made to make it fit our house style and to make it marketable. I list these changes below.1. The title. This is puzzling. I don't think readers will see the relevance of the title to the rest of the text. Also, it is not grammatically correct, as it should be<i> 'The Bleak House'</i>. Popular titles for novels at the moment are rather longer and say a little bit more about the book. Suggestions based on titles which have proved popular recently might include <i>'Very Dirty and Terribly Important'</i>, or <i>'The Girl who Wondered Who She Was'.</i> Please think about it.2. The double narrative. I strongly recommend that you split these into two separate books. It should be quite easy to separate the two narratives, one of our interns could do it. Perhaps the Esther narrative could be published first, and then the other narrative later, as a second book? This would allow us to maximize our investment. 3. The prose style is far too overwrought and will not be popular with readers. To help you understand what I mean, I have notated the opening paragraph with suggestions for changes.<i>LONDON. </i>We've got a problem right here, as many of our readers will simply not know who or what or where London is. We suggest changing this to 'Milwaukee', as market research shows that this city is representative of our target audience.<i>Michaelmas Term lately over</i>Similarly, our readers will be asking, 'what is Michaelmas?' And 'term' is far too British. We suggest changing this to 'fall semester'.<i>and the Lord Chancellor sitting in Lincoln's Inn Hall.</i>Again, simply too British. We suggest changing this to an American position of equivalence. Perhaps 'City Council Member'. Also, many readers will take exception to the association of Lincoln with an inn. Perhaps change this to the name of a President who is a bit more innocuous and likely to have been forgotten by most readers: Carter, perhaps?<i>Implacable November weather. </i>Can you change 'implacable'? I'm not sure our readers will know this word. Two syllable words maximum are best, as has been shown by market research many times. (If you hit F6 on your keyboard, you get a really useful thesaurus you can use to choose words more likely to be familiar to readers)<i>As much mud in the streets as if the waters had </i>Here at Simian and Shyster we pride ourselves on keeping metaphors out of our writers' work. Now, as this whole passage is one extended metaphor, getting rid of it will mean extensive rewriting. Mmm. In fact, come to think of it, the whole book is an extended metaphor isn't it? I'll check with our marketing department about how to proceed on this, and get back to you.<i>but newly retired from the face of the earth,</i>'but newly retired' is not being accepted by my grammar checker, it suggests 'only recently retired'. Are you ok with that?<i>and it would not be wonderful</i>Readers will not understand this. Avoid this kind of implied negatives. Suggest: 'and it would be cool'<i> to meet a Megalosaurus, </i>'Megalosaurus' is simply far too long. Market research shows that the most popular pet in the Milwaukee area is a dog, and this also ties in with our Frequent Word Recognition Program ™, which has been very helpful in keeping more than 50% of our books in the NYT Bestseller list for longer than one week, and which also suggests 'dog' here. <i>forty feet long or so, waddling like an elephantine lizard </i>Oh dear, this is getting into a mixed metaphor isn't it. I suggest scrapping this altogether. Do try to keep your sentences as short as possible. Readers like to read short things. <i>up Holborn Hill. </i>'up' is far too strenuous. Market research shows that depictions of exertion or exercise fare badly with the Midwestern market. Readers there apparently feel guilty about their lifestyles if they read about exertion. I suggest 'down' the hill. Easier. Also, please use Google Earth to check if their really is such a street name in Milwaukee.<i>Smoke lowering down from chimney-pots, making a soft black drizzle, with flakes of soot in it as big as full-grown snow-flakes — gone into mourning, one might imagine, for the death of the sun. </i>This is showing as an 'incomplete fragment' on my grammar checker, so you will need to look at the grammar of this sentence. In fact, most of the manuscript shows up in red on my grammar checker, so you will really need to change your style. Avoid long sentences, and avoid complex sentences, compound ones are better. Here is an example of what I mean:<i>Smoke was lowering down from chimney-pots. It was making a soft black drizzle, and it had flakes of soot in it. These were as big as full-grown snow-flakes. A person watching (avoid 'one', it's so pretentious) might imagine that it had gone into mourning for the death of the sun. </i>The rest of the paragraph can simply be cut. You are merely adding more detail to reinforce your point, but actually you are not saying anything new. Readers will not understand it, and they will get tired of all the detail. The story does not move forward. Pace, pace, pace, keep it moving forward all the time, and keep your sentences as short as possible. Market research shows this is best.I think we have a possible winner on our hands, but as I said above, the novel needs a lot of work before it is ready for publication. If you can agree to our suggested changes, I'll put together a team of staff writers and editors to work on it with you. Thanks once again for submitting your manuscript, and I look forward to writing your book for you. Eddie TorrNew Project ManagerSimian and ShysterAmerica's Biggest and Best Books™
Review by lemotamant898
02/03/2016
I've been a fan of Dickens since eight-year-old me discovered that "Marley was... as dead as a doornail;" in fact, I fully blame Dickens for several of my Victorian era lit classics binges throughout the years. A love, burgeoning or fully grown, for Dickensian wit and social satire is oft the struck chord that creates a distinct urge to reach out for more (and more). The heady simpatico taste of a Dickens' tome certainly has a lot to do with a logomania camaraderie. Oh, the words. The words! However, Word Lovers United™* aside, what I truly love about the Dickens' works I've experienced so far is that I'm constantly getting something new out of them. Like the Hans Brinker from folklore, I tend to get the sense that I'm standing at the side of a dam with my finger on the flow and I'll end up with whatever I'll allow through. Or, for a modern take, I'll go with Shrek's take on onions: they have <b>layers</b>!<br/><br/>That's the merit factor for me; the depth of the story, of Dickens' empathy and opinions, of the references that flesh out the world of both author and characters. All of which culminate in a work that makes you truly feel the weight of it as an experience had - as if each word simply bulges with it. It's this that keeps such a work relevant in my opinion. <br/><br/>So, in this reading of <i>Bleak House</i> since I hope there will be several more to come, I found myself most captivated by Jo's plight of moving on and the rippling riptide of Chancery. Jo was my emotional Twist twist. "Please sir..." where should I move, sir. Dickens knowing how to haunt both the soles and souls of even the modern human:<br/><br/>"'My instructions are that you are to move on. I've told you so five hundred times!'<br/>'But where?' cries the boy.<br/>'My instructions don't go to that...move on!'<br/>Do you hear, Jo?... The one grand recipe remains for you- the profound philosophical prescription- the be all &amp; end all of your strange existence upon earth. Move on! You are by no means to move off, Jo, for the great lights can't at all agree about that. Move on!"<br/><br/>He's also quite the master of encapsulation and metaphor. From character to character we have these revolving spheres of motion, action, inaction, emotion that give us insight to the whole. It's this interconnected style that I find absolutely fascinating (and that keeps my list of characters pretty well thumbed through). <br/><br/>Not wanting to emulate Dickens in a review of, well, Dickens, I'll keep it short and sweet. This is an easy new favorite. The wit and wisdom being balanced with a plot that I found pretty interesting as we encounter characters arcs diverging and a bit of a caper-esque (timing, timing, timing) climax that, though not the crux of the work, certainly adds intrigue. While not all characters made a significant impression on me this time around - that's kind of the beauty of want I've rambled about so much here. On another read through I'm sure I'll find even more to sink into. <br/><br/><br/>*A fascinating group, really. We never get anywhere though; everyone talks too much.
Also in the Penguin Clothbound Classics series | View all