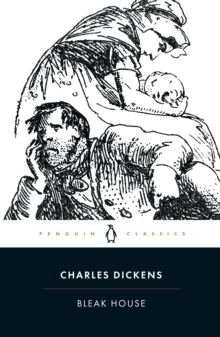 Description
Bleak House is Charles Dickens's masterful assault on the injustices of the British legal system.
This Penguin Classics edition is edited with an introduction and notes by Nicola Bradbury, as well as a preface by Terry Eagleton.As the interminable case of 'Jarndyce and Jarndyce' grinds its way through the Court of Chancery, it draws together a disparate group of people: Ada and Richard Clare, whose inheritance is gradually being devoured by legal costs; Esther Summerson, a ward of court, whose parentage is a source of deepening mystery; the menacing lawyer Tulkinghorn; the determined sleuth Inspector Bucket; and even Jo, the destitute little crossing-sweeper.
A savage, but often comic, indictment of a society that is rotten to the core, Bleak House is one of Dickens's most ambitious novels, with a range that extends from the drawing rooms of the aristocracy to the poorest of London slums.This edition follows the first book edition of 1853, and includes all the original illustrations by 'Phiz', as well as appendices on the Chancery and spontaneous combustion.
In his preface, Terry Eagleton examines characterisation and considers Bleak House as an early work of detective fiction.Charles Dickens is one of the best-loved novelists in the English language, whose 200th anniversary was celebrated in 2012.
His most famous books, including Oliver Twist, Great Expectations, A Tale of Two Cities, David Copperfield and The Pickwick Papers, have been adapted for stage and screen and read by millions.
If you enjoyed Bleak House, you might like Dickens's Our Mutual Friend, also available in Penguin Classics.'Perhaps his best novel ... when he wrote Bleak House he had grown up'G.K. Chesterton'One of the finest of all English satires'Terry Eagleton
Information
Format: Paperback
Pages: 1088 pages
Publisher: Penguin Books Ltd
Publication Date: 25/01/2003
ISBN: 9780141439723
Other Formats
Paperback from £2.50
Hardback from £8.89
Mixed media product from £12.17
PDF from £4.66
EPUB from £1.94
Free Home Delivery
on all orders
Pick up orders
from local bookshops
Reviews
Showing 1 - 5 of 12 reviews.
Previous | Next
Review by hrissliss
16/06/2015
Everyone always told me I'd hate Dickens when I read him. Actually, I rather like him. While sometimes the amount of detail, and the number of minor-but-still-CRUCIAL characters was a little irksome, the book itself was wonderful. Note: If you read, you WILL want to keep paper handy. It's easier to just write down all the characters than to try and remember them. And you WILL want to write down EVERY CHARACTER. 8/10
Review by hganshorn
16/06/2015
OK, let's be honest. As much as I love Dickens, I have to admit he wrote a lot of maudlin junk. This book is probably one of his worst. The heroine, Esther, is the most obnoxious, mealy-mouthed grateful little orphan since Jane Austen's Fanny Price. Dickens can't seem to write realistic, compelling young women -- they are always tragic waifs, or legless angels. This is a shame, because he writes older women so well. The book's satirical look at the world of lawsuits is fantastic, and almost, but not quite, makes up for Esther's cloying sweetness.
Review by fleurdiabolique
16/06/2015
Difficult to get into at first due to switching narrators/verb tenses and a slow start to the plot, "Bleak House" ultimately proves rewarding to those who are willing to search out and examine the novel's underlying structure of analogy, comparison, and linkage. This is an extremely complex work, both in technique and in its conceptual underpinnings. For the reader who is willing to put work into deciphering the text, and who loves Dickens' minor characters, this will be a beloved book. The reader looking for a light, superficial read will most likely be frustrated and irritated.
Review by Hera
16/06/2015
All-round wonderful. A brilliant critique of the legal system, a ripping yarn of a plot, spontaneous human combustion: this has it all.
Review by PensiveCat
16/06/2015
Long but fun, and not as bleak as expected. There's as usual a massive cast, but there's all intertwined eventually, so it's worthwhile to pay attention to them. The story is more intriguing as I work in the legal field, so I was able to make comparisons, but you don't need legal expertise to get the story. I could read Smallweed's insulting tirades to his "brimstone chatterer" of a wife over and over again! Some issues resolved themselves in predictably unrealistic ways, and there were a good deal of mysterious deaths (spontaneous combustion being the most fascinating and crazy). I didn't know Dickens was a pioneer in detective fiction until I saw his handling of Inspector Bucket. I would say this is an essential Dickens, if you are willing to invest the time.