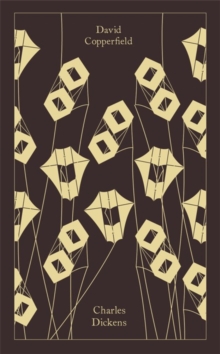 David Copperfield
Hardback
Description
Dickens's great coming-of-age novel, now in a beautiful clothbound Penguin editionThis is the novel Dickens regarded as his 'favourite child' and is considered his most autobiographical.
As David recounts his experiences from childhood to the discovery of his vocation as a successful novelist, Dickens draws openly and revealingly on his own life.
Among the gloriously vivid cast of characters are Rosa Dartle, Dora, Steerforth, and the 'umble Uriah Heep, along with Mr Micawber, a portrait of Dickens's own father which evokes a mixture of love, nostalgia and guilt.Dickens's great Bildungsroman (based, in part, on his own boyhood) is a work filled with life, both comic and tragic.Charles Dickens (1812-70) had his first, astounding success with his first novel The Pickwick Papers and never looked back.
In an extraordinarily full life he wrote, campaigned and spoke on a huge range of issues, and was involved in many of the key aspects of Victorian life, by turns cajoling, moving and irritating.
He completed fourteen full-length novels and volume after volume of journalism.
Of all his many works, he called David Copperfield his 'favourite child'.Jeremy Tambling is Professor of Literature at the University of Manchester.
Information
Format: Hardback
Pages: 1024 pages
Publisher: Penguin Books Ltd
Publication Date: 01/05/2014
Category: Classic fiction (pre c 1945)
ISBN: 9780141394640
Other Formats
Paperback from £2.50
Hardback from £6.15
CD-Audio from £13.05
Mixed media product from £8.93
Free Home Delivery
on all orders
Pick up orders
from local bookshops
Reviews
Showing 1 - 1 of 1 reviews.
Review by bookworm12
16/06/2015
"Whether I shall turn out to be the hero of my own life, or whether that station will be held by anybody else, these pages must show."This novel is a great example of what Dickens does best. He writes about a young man, orphaned and surrounded by dozens of colorful characters as he tries to make his way in the world. My favorite part of this particular Dickens' tapestry is the varied people he brings into his protagonists' life. They're never boring and tend to have fantastic names. There's the eccentric aunt, Betsey Trotwood, who is convinced Copperfield's mother is going to have a girl. Then David is born and she's so disappointed she leaves the house immediately and never talks to her again. There's Mr. and Mrs. Macawber, a curious pair who are devoted to each other, despite the mister's tendency to get them into debt. Copperfield's step-father, Mr. Murdstone and his sister are an obviously sinister pair, while Steerforth, David's schoolmate, just makes you a bit uneasy at first. Peggotty is David's servant and dear friend and her courtship is hilarious. Without giving anything away, I would add that I didn't love the character of Dora. You meet her about half way through the book and she's the equivalent of a dizzy blonde. No offense to blondes out there, but you know what I mean. I just found her incredibly annoying. On the flip side we have Agnes, Copperfield's close friend. She's clever and kind and I loved her.This book feels a bit light-hearted at first, but it takes a darker turn as the characters are forced to deal with some horrible things. Apparently Leo Tolstoy once said that chapter 55, The Tempest, "is the standard by which the world's great fiction should be judged," high praise from Mr. War and Peace himself. There are also some wonderfully funny parts in the books, with lines like… "He was always doing something or another to annoy me, or I felt as if he were, which is the same thing."One section gives a detailed account of David Copperfield getting wasted with his friends. It's not something you ever think you'll stumble upon while reading classic literature and because of that it's even more delightful when you do. After a few rocky years, I think I can officially say I'm a big fan of Dickens' work. I haven't loved everything he's written, but the deeper I go into his lesser known works, the more I enjoy them. I think the key, for me at least, is to pace myself. His books are too similar to each other to read in a binge. If I read only one a year instead, I find myself eagerly anticipating the next one.
Also in the The Penguin English Library series | View all