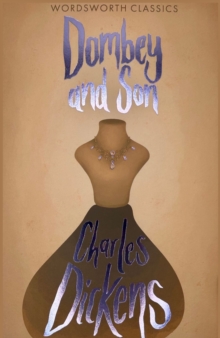 Description
With an Introduction and Notes by Karl Ashley Smith, University of St Andrews. Illustrations by Hablot K. Browne (Phiz). Mr Dombey is a man obsessed with his firm. His son is groomed from birth to take his place within it, despite his visionary eccentricity and declining health.
But Dombey also has a daughter, whose unfailing love for her father goes unreturned. 'Girls' said Mr Dombey, 'have nothing to do with Dombey and Son'. When Walter Gay, a young clerk in her father's office, rescues her from a bewildering experience in the streets of London, his unforgettable friends believe he is well on his way to receiving her hand in marriage and inheriting the company.
It is to be a very different type of story. Dombey and Son moved grown men to tears (Thackeray despaired of `writing against such power as this'), but its rich, comic characters and their joyful explosions of language draw laughter with equally unerring magic.
Information
Format: Paperback
Pages: 848 pages
Publisher: Wordsworth Editions Ltd
Publication Date: 05/07/1995
ISBN: 9781853262579
Other Formats
Paperback from £5.99
Hardback from £10.19
CD-Audio from £21.35
EPUB from £1.94
PDF from £1.94
Paperback / softback from £12.85
Free Home Delivery
on all orders
Pick up orders
from local bookshops
Reviews
Showing 1 - 1 of 1 reviews.
Review by mbmackay
16/06/2015
Dickens' seventh major work, and about half-way through his life's works (which I am reading/re-reading in his 200th anniversary year).While earlier works have a "boys own annual" feel to them, this is a more mature and complex book. While Dickens still annoys with his fantastic coincidences to bring his artificial plots together, in this book there are some interesting and developed characters. Florence, who feels it is somehow her fault that her father doesn't love her, has a modern feel. A comment passed about Dombey, who is obsessively proud, is informative: "Vices are sometimes virtues taken to excess".I find it interesting that in his works, Dickens has multiple examples of strong, loving, brother-sister relationships, but almost no happy married couples of any depth. I wonder what this tells of his own background?Darwin continues his social themes, in this work he often highlights the "depravity" deplored by the upper class is often a result of the blighted environment of the poorer peoples. He also points out that the same "depravity" has different consequences in different social stratas - the upper class can effectively sell daughters into a moneyed marriage, while the same process is called prostitution further down the social scale.I see in Wikipedia that an early critic faulted the plot structure, saying that the death of Dombey Junior was effectively the end of the story, but I didn't find that fault. It was clear that Florence was going to be the hero - would she become the surrogate son? Would she be successful in some other way? Would there be a future marriage and further son? Many possibilities.The book is L O N G, as usual. And Dickens tests his readers. A Mr Morfin re-appears on page 681. How many readers recall his last appearance on page 175?? I could only do so courtesy of the word search function in ebooks. The book also has the usual complement of comic characters who regularly appear and regularly use the same "gags" for the same laughs: Capt Cuttle using nonsense nautical jargon; Major Bagstock endlessly referring to himself in the third person, and many other formulaic characters. It would seem that these were popular and sold the monthly parts. :) So, a good book, with many of the usual flaws of Dickens, balanced by some vibrant writing. Read February 2012.
Also in the Wordsworth Classics series | View all