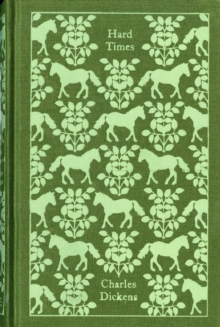 Description
Part of Penguin's beautiful hardback Clothbound Classics series, designed by the award-winning Coralie Bickford-Smith, these delectable and collectible editions are bound in high-quality colourful, tactile cloth with foil stamped into the design.
Coketown is dominated by the figure of Mr Thomas Gradgrind, school headmaster and model of Utilitarian success. Feeding both his pupils and family with facts, he bans fancy and wonder from any young minds. As a consequence his obedient daughter Louisa marries the loveless businessman and 'bully of humanity' Mr Bounderby, and his son Tom rebels to become embroiled in gambling and robbery. And, as their fortunes cross with those of free-spirited circus girl Sissy Jupe and victimized weaver Stephen Blackpool, Gradgrind is eventually forced to recognize the value of the human heart in an age of materialism and machinery.
Information
Format: Hardback
Pages: 368 pages
Publisher: Penguin Books Ltd
Publication Date: 06/10/2011
Category: Classic fiction (pre c 1945)
ISBN: 9780141198347
Other Formats
Paperback from £2.50
CD-Audio from £11.39
Hardback from £8.35
Mixed media product from £44.09
EPUB from £0.99
Free Home Delivery
on all orders
Pick up orders
from local bookshops
Reviews
Showing 1 - 1 of 1 reviews.
Review by gypsysmom
16/06/2015
Charles Dickens was born 200 years ago this month. To celebrate many BookCrossers decided to read one of his works in February. I decided to listen to this book. I had never heard of it before but I figured I couldn't go too far wrong with anything by Dickens. I especially like listening to his work as the descriptive language really builds a picture in my mind.This book is unusual in comparison to most of Dickens' work. For one thing, it is set in the north of England and, other than one of the characters being a member of Parliament, no-one bothers with London. It is also quite a bit shorter than most of his novels but you shouldn't think it doesn't have depths. The setting is an industrial town that sounds frankly awful. Smoke stacks spew into the air all day and all night so there is never an unobscured view of the sky. All the houses and buildings are red brick with no decoration. To go with the surroundings the local school teaches only the facts and discourages children from "wondering" about anything. One of the eminent families is the Gradgrinds and Mr. Gradgrind is a trustee of the school. The book opens with the children being quizzed. Sissy, daughter of a man employed in the circus, is asked to describe a horse but she can't do it to the satisfaction of the questioners. She can't give just the facts. Bitzer, one of the star pupils, is able to give a complete description sticking only to the facts and Sissy is recommended to follow his example.The Gradgrind children, Louisa and Tom, are also pupils of the school and their father is very proud of their learning. Louisa ends up married to one of her father's friends, Mr. Bounderby, mainly because she is unable to think of any other possibilty. She also is prodded into the marriage by Tom who is working in Mr. Bounderby's bank and thinks his life will be much easier if Louisa is married to Bounderby. Tom is a wastrel, given to gambling and drinking. Dickens brings the working class into the story through the introduction of Stephen Blackpool. Stephen is in love with Rachel but is married to a woman who is a drunkard. Stephen tries to find out from Bounderby if he can dissolve his marriage but is told that he couldn't afford to get an annulment.These main characters interact and Dickens shows how unsatisfactory utilitarianism is for most humans. The book is more tragic than other Dickens that I have read but I suspect that was his aim. There are some wonderful characterizations and Louisa, Rachel and Sissy are strong characters.
Also in the Penguin Clothbound Classics series | View all