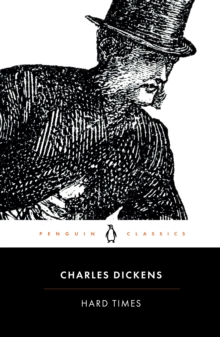 Description
A damning indictment of Utlilitarianism and the dehumanising influence of the Industrial Revolution, Charles Dickens's Hard Times is edited with an introduction and notes by Kate Flint in Penguin Classics.In Hard Times, the Northern mill-town of Coketown is dominated by the figure of Mr Thomas Gradgrind, school headmaster and model of Utilitarian success.
Feeding both his pupils and family with facts, he bans fancy and wonder from any young minds.
As a consequence his obedient daughter Louisa marries the loveless businessman and 'bully of humanity' Mr Bounderby, and his son Tom rebels to become embroiled in gambling and robbery. And, as their fortunes cross with those of free-spirited circus girl Sissy Jupe and victimized weaver Stephen Blackpool, Gradgrind is eventually forced to recognize the value of the human heart in an age of materialism and machinery.This edition of Hard Times is based on the text of the first volume publication of 1854.
Kate Flint's introduction sheds light on the frequently overlooked character interplay in Dickens's great critique of Victorian industrial society.Charles Dickens is one of the best-loved novelists in the English language, whose 200th anniversary was celebrated in 2012.
His most famous books, including Oliver Twist, Great Expectations, A Tale of Two Cities, David Copperfield and The Pickwick Papers, have been adapted for stage and screen and read by millions.
If you enjoyed Hard Times, you might like Dickens's Bleak House, also available in Penguin Classics.'A masterpiece ... a completely serious work of art'F.R. Leavis
Information
Format: Paperback
Pages: 368 pages
Publisher: Penguin Books Ltd
Publication Date: 27/02/2003
Category: Classic fiction (pre c 1945)
ISBN: 9780141439679
Other Formats
Hardback from £8.35
Paperback from £2.50
CD-Audio from £11.39
Mixed media product from £44.09
EPUB from £0.99
Free Home Delivery
on all orders
Pick up orders
from local bookshops
Reviews
Showing 1 - 4 of 4 reviews.
Review by hansel714
16/06/2015
Thomas Gradgrind brings up his children with the motto of "Facts! Facts! Facts! Nothing but facts!" As a result, Gradgrind's daughter ends up in a loveless marriage to a much older and disgusting man and his son turns out to be a dissipated fop. The narrative is easily going, and I teared many a times while reading although my minor gripe is that it's too didactic and heavy-handed. Ok, Dickens, we get it already, Facts are important but so are emotions. Stop badgering us already.
Review by AdonisGuilfoyle
16/06/2015
Dear me, two Dickens novels in as many weeks - I must be getting old! His stories are still a little too simplistic for my liking - the good are rewarded, the 'wicked' punished - but I do love his narrative style and wry humour. For Victorian social commentary, particularly about the industrial north, Dickens' friend Mrs Gaskell has the edge, but I can still appreciate this moralistic tale about the sacrifice of humanity as the cost of progress. Mr Bounderby is my favourite character, inventing a heroic struggle to raise himself out of the gutter where most people would 'improve' their social heritage for effect: 'I passed the day in a ditch and the night in a pigsty. That's the way I spent my tenth birthday. Not that a ditch was new to me, for I was born in a ditch.' He reminds me of the Monty Python 'Four Yorkshiremen' sketch - 'I had to get up in the morning at ten o'clock at night, half an hour before I went to bed, drink a cup of sulphuric acid, and work twenty nine hours a day down t'mill ..' - and his exaggerations are made all the funnier because he is making it all up!The story is one of Dickens' standard social metaphors, about the family of Mr Gradgrind, presumably a member of the Statistical Society, who raises his children on 'facts alone', and denies them any imagination or amusement; Gradgrind of course representing the industrial north ('Coketown' is based on Preston, Lancashire) and his children the working classes. Bounderby, the 'self-made man' more or less buys Gradgrind's disillusioned daughter, Louisa, as his wife, and she agrees, to benefit her wayward brother, but her heart rebels when she thinks she might have fallen in love with the cynical Jem Harthouse. There's also Old Stephen Blackpool, replete with thick Lancastrian accent, who falls prey to both the greed of the masters and the strength of the unions, and Sissy Jupe, the freespirited circus girl, who is adopted by Gradgrind and helps to become a better man. Characters are where Dickens really triumphs, and I wasn't disappointed here.Not quite the industrial novel I was expecting, but an amusing read!
Review by Eyejaybee
16/06/2015
Not one of Dickens's better known novels but seething with his customary descriptive powers, and even more social comment than usual.The novel is set in Coketown, a fictional city in the North of England renowned for its mills and factories. The novel opens with headmaster Thomas Gradgrind introducing prospective new clients to his school with a speech reminiscent of current Minister of State for Schools Nick Gibb, and stressing the importance of facts over sentiment or imagination. Even his own children are subjected to an education in which curiosity is suppressed and learning facts by rote is the only permissible approach.Gradgrind's closest companion is the odious Josiah Bounderby, a self-made man who is never happier than when extolling the poverty of his childhood and traducing the mother who abandoned him in a ditch when merely an infant. He revels in the poverty of his upbringing and the absence of his own education, and champion's Gradgrind's factual crusade. He also dotes in the most gruesome manner over Louisa, eldest daughter of Gradgrind, and subsequently, following discussions with Mr Gradgrind that more closely resembled a business negotiation than a lover's suit, marries her. Her brother, also called Thomas, comes to work for Bounderby, taking on a role in the bank, though he succumbs to a dangerous addiction to gambling and drinking.Bounderby is owner of a bank and a mill in Coketown, and his employees are almost shackled, dependent upon the pittance he pays them. However, while most of the workers seem anonymous, one of them is Stephen Blackpool, who loves Rachael, but is married to an unnamed and itinerant alcoholic woman Blackpool refuses to join a trade union, and as a consequence he is sent to Coventry by his colleagues. However, rather than being supported by Bounderby he finds himself given notice to quit. Pledging always to stay true to Rachael he makes his arrangements to leave.And then someone robs the bank ...Like all of his more famous novels there is a heavy dose of almost cliched sentiment about this novel, but Dickens does bring his incisive social commentary into play. He attacks every aspect of the workers' thraldom - the paucity of their wages, the conditions in which they have to work, the rampant pollution of the mills, the desperate poverty of available accommodation. Yet despite all this, it is not just a political diatribe but remains enjoyable.
Review by 50MinuteMermaid
16/06/2015
Certainly my favorite of Dickens's works, and I think his best rendering of the impact of industrialism on both urban and suburban British society in the 19th century. Beautifully drawn, it's easy to see the lineage through to Orwell's works in <i>Down and Out</i> and <i>Wigan Peir</i>.