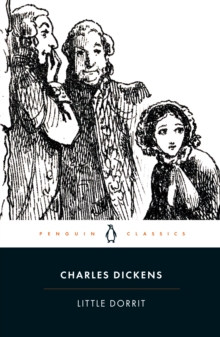 Description
A novel of serendipity, of fortunes won and lost, and of the spectre of imprisonment that hangs over all aspects of Victorian society, Charles Dickens's Little Dorrit is edited with an introduction by Stephen Wall in Penguin Classics.When Arthur Clennam returns to England after many years abroad, he takes a kindly interest in Amy Dorrit, his mother's seamstress, and in the affairs of Amy's father, William Dorrit, a man of shabby grandeur, long imprisoned for debt in Marshalsea prison.
As Arthur soon discovers, the dark shadow of the prison stretches far beyond its walls to affect the lives of many, from the kindly Mr Panks, the reluctant rent-collector of Bleeding Heart Yard, and the tipsily garrulous Flora Finching, to Merdle, an unscrupulous financier, and the bureaucratic Barnacles in the Circumlocution Office.
A masterly evocation of the state and psychology of imprisonment, Little Dorrit is one of the supreme works of Dickens's maturity.Stephen Wall's introduction examines Dickens's transformation of childhood memories of his father's incarceration in the Marshalsea debtors' prison.
This revised edition includes expanded notes, appendices and suggestion for further reading by Helen Small, a chronology of Dickens's life and works, and original illustrations.Charles Dickens is one of the best-loved novelists in the English language, whose 200th anniversary was celebrated in 2012.
His most famous books, including Oliver Twist, Great Expectations, A Tale of Two Cities, David Copperfield and The Pickwick Papers, have been adapted for stage and screen and read by millions.
If you enjoyed Little Dorrit, you might like Dickens's Barnaby Rudge, also available in Penguin Classics.
Information
Format: Paperback
Pages: 1024 pages
Publisher: Penguin Books Ltd
Publication Date: 25/09/2003
ISBN: 9780141439969
Other Formats
Paperback from £2.50
Hardback from £10.19
eAudiobook MP3 from £8.00
EPUB from £2.99
Mixed media product from £12.72
PDF from £1.94
Free Home Delivery
on all orders
Pick up orders
from local bookshops
Reviews
Showing 1 - 5 of 10 reviews.
Previous | Next
Review by wisewoman
16/06/2015
Little Dorrit, published in 1855–1857, is often described as Dickens' creative re-imagining of his experiences at the Marshalsea Prison, where his father was imprisoned for debt in 1824 when Charles was twelve. The Marshalsea looms over this story in various forms; sometimes it feels ominous and other times it is congenially familiar. The characters are wonderful, as is usual with Dickens. I think John Chivery is my favorite. He proves that heroism doesn't have to be dashing. More often than not, it's humble. I also love the Plornishes, especially Mrs. Plornish's linguistic abilities. Flora is also so much fun... I know people just like her, who never use punctuation in either their speech or writing. She drove me crazy at first, especially with her constant silly references to her previous love for Arthur. But she grew on me and I started to enjoy her scenes. Dickens can be so funny!Little Dorrit herself is so sweet and selfless that she is a little hard to believe, though most people will be able to empathize with her when she is walked over by her family. She is a character that I would seek to emulate, rather than immediately identify with. I don't know anyone in real life who would be so patient with selfish, thoughtless family members; I know I couldn't! The villains are as varied as in real life. Rigaud Blandois, that "gentleman," is insufferable. His speeches of self-justication and self-satisfaction are just sickening. Miss Wade is simply mesmerizing... so much of what she says *could* have a basis in reality, but is so twisted. Is it really okay to adopt an orphan and raise her to be a servant to one's own daughter? But it's all in the interpretation of reality, and her bitterness is clearly wrong. It's the same with Mrs. Clennam, that merciless, religious woman. She is legalism personified. And who could forget Mr. Merdle! I knew we were setting up for a big fall when Dickens was hyping him so much, but I didn't suspect what actually happens. Other "public" villains include the family Barnacle, who cling stubbornly and uselessly to the ship of State, and also what Dickens is pleased to call the "Circumlocution Office." This is his name for all the bureaucracy in English government that ever stifled good sense and public well-being — and he is not kind to it. Unfortunately for this novel, I have been reading it since May (it's now August), due to various life circumstances and general busyness. I usually read very quickly and it's unusual for me to spend over two months in one book. And so I felt that this story dragged, and my emotional involvement with its characters was less than it might have been. I have enjoyed many of Dickens' books and am used to his sprawling plots, but this one had so many subplots going in so many different directions, it rather faltered at the end. So much was left unresolved. It isn't that everyone has to have a happy or at least satisfying ending. They just need to have an ending, period! Also, the plot device by which Little Dorrit becomes possessed of her fortune is so convoluted. I was shamefacedly thankful for the breakdown in my Penguin Classics copy which explained all the events that transpired before the story started. Arthur Clennam's intuition that there was some dark dealing in his family's past that wronged the Dorrits was also a little too precipitate; how could he have known? There were moments when I was overtaken by the mastery of Dickens' storytelling, like when the businesslike Pancks betrays a fondness for the happy little Italian, Baptiste Cavalletto. It is also very poignant when Arthur keeps trying to convince himself he is not in love with Pet and when Mr. Meagles tells him about Pet's dead twin sister. I was rather in awe of Dickens right there; it was perfectly put. I felt so much for the Meagles and for Arthur at that moment.However, despite its great characters and moments of genius, Little Dorrit is not one of my favorite Dickens novels. In fact, it's probably my least favorite thus far. That isn't to say that I did not enjoy it, but it just didn't have the overmastering, unifying idea that it needed to bring everything together at the end. It was just about too many things. Sometimes it was about the asinine abuses of the Circumlocution Office; sometimes it was about feminism and the unspeakable insult of charity; sometimes it was about financial devastation by swindlery; sometimes it was about the deterioration of personality brought about by imprisonment. At the end, I felt that I was left still holding the strings of some of the subplots. I wasn't sure how to put them down and Dickens did not gently take them from my hands and lay them to rest. This is a good novel, but flawed. I would not recommend this as one's first foray into Dickens.
Review by Smiley
16/06/2015
A decided Dickens masterpiece. Compelling but it bogs a bit in the middle (Italy) and it suffers from a few of the Great One's particular flaws. On the whole I liked Bleak House better and this is just a slight cut above Our Mutual Friend.
Review by jwhenderson
16/06/2015
It is a rather mixed bag of mystery and intrigue between characters both well-off and not. The theme of prisons and imprisonment permeates this book with the title character residing with her family in the infamous "Marshalsea" prison for the first part of the book. The main plot is focused on the efforts of Arthur Clennam to assist Little (Amy) Dorrit's family in paying their debts so as to escape the prison and Arthur's own quest to solve the mystery of his family & identity. The Dorrits succeed in leaving the prison due to discovered inheritance. The novel moves on to the second part and advancement of the love interests of several characters along with new developments in the life of Arthur. One of Dickens most complicated tales, the novel has several "shady" characters that create difficult situations. Moreover Dickens demonstrates some of his most effective satire in the description of the Circumlocution Office and its administrators, the predatory Barnacles. This novel exhibits some of the characteristic traits for which Dickens is famous, including a plethora of characters, atmospheric descriptions and a somewhat convoluted plot line. While exhibiting these traits it also has two of the most decent and truly good protagonists (if not hero and heroine) in all of the Dickens which I have read. That Arthur Clennam and Little Dorrit (Amy) finally join together in wedded bliss is a consummation not unexpected and certainly deserved. Arthur has survived his 'quest' for identity and understanding and while not entirely successful he has reached a point from which he can satisfactorily go forward with his life and with his Amy.For this reader the novel was both satisfying and perturbing. The continual railing against the Circumlocution Office and skewering of debtors' prisons with the 'Marshalsea' was not convincing and the weakness of the plot undermined the quality of the novel. However, the fecundity of curious and wonderful characters who consistently charmed and challenged the reader with their psychological complexity helped to overcome all other weaknesses. And this is the great strength of Dickens as a novelist which he demonstrates again and again as he continues to increase his mastery of this literary form.
Review by firebird013
16/06/2015
The complex structure of this book adds to its power; when a good man falls on hard times in a merciless world, who will help him? Little Dorrit is wonderful creation by Dickens who enters the heart; a moving book about friendship, courtship and greed. The evocation of the debtor's prison in London is masterful.
Review by joshberg
16/06/2015
As a recent Guardian article pointed out, the financial skullduggery at the heart of all the misery here eerily foreshadows our current economic predicament. I read this one serially over a few months, and enjoyed that rhythm, though I had some quibbles with the plot (most notably Mrs. Clennam's fiddly grand revelation towards the end, which one has to read twice to understand and thus lose the dramatic moment). The novel didn't make as much of an impression on me as Bleak House, but I felt it was on a par with Great Expectations--wonderful language, characterization, dialogue, and sly humor. Lovely final, bittersweet Dickensian line: "They went quietly down into the roaring streets, inseparable and blessed; and as they passed along in sunshine and shade, the noisy and the eager, and the arrogant and the froward and the vain, fretted, and chafed, and made their usual uproar."