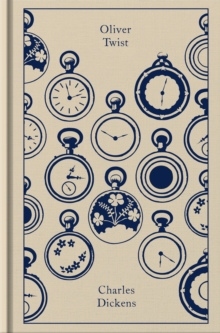 Description
Part of Penguin's beautiful hardback Clothbound Classics series, designed by the award-winning Coralie Bickford-Smith, these delectable and collectible editions are bound in high-quality colourful, tactile cloth with foil stamped into the design.
The story of the orphan Oliver, who runs away from the workhouse only to be taken in by a den of thieves, shocked readers when it was first published.
Dickens's tale of childhood innocence beset by evil depicts the dark criminal underworld of a London peopled by vivid and memorable characters - the arch-villain Fagin, the artful Dodger, the menacing Bill Sikes and the prostitute Nancy.
Combining elements of Gothic Romance, the Newgate Novel and popular melodrama, Dickens created an entirely newkind of fiction, scathing in its indictment of a cruel society, and pervaded by an unforgettable sense of threat and mystery.
Information
Format: Hardback
Pages: 608 pages
Publisher: Penguin Books Ltd
Publication Date: 01/10/2009
Category: Classic fiction (pre c 1945)
ISBN: 9780141192499
Other Formats
Paperback from £2.50
Hardback from £5.09
Mixed media product from £6.10
Free Home Delivery
on all orders
Pick up orders
from local bookshops
Reviews
Showing 1 - 3 of 3 reviews.
Review by sly_wit
16/06/2015
Frankly, I thought <i>Oliver Twist</i> would be a bit of a chore, but instead I really looked forward to it each night (I chose to read most of the book following the original serialization breaks marked in my edition). The story is melodramatic and sentimental, and the coincidences in the plot are extremely far-fetched, but it's a fun ride and an interesting exposure of social welfare and the criminal justice system of the time.<br/><br/>It's admittedly difficult to read Dickens' characterization of Fagin ("the Jew") today, but there were other "bad" characters who were exceptionally drawn, such as the Bumbles or Bill Sikes, and other characters I would have liked to see more of, such as Mr. Grimwig or Jack Dawkins (who disappears unceremoniously from the narrative at a certain point). The portrayal of the relationship between Nancy and Bill Sikes is particularly strong and sadly relevant even today.
Review by AlCracka
16/06/2015
First of all, Oliver Twist is a hateful book. Dickens has created in Fagin an embodiment of bigotry; a leering, black-nailed, money-grubbing Jew who's nearly always referred to as The Jew, as though Dickens wasn't sure we'd get it.* Fagin is the most memorable character in Oliver Twist, and he's inexcusable. I've read me some Victorian novels; I'm familiar with the casual anti-Semitism that's nearly unavoidable in them; I understand the context of the time. Dickens is well beyond that context. For his time, he was a hater. This is a hate crime of a book. <br/><br/><i>* To clarify my context: I'm an atheist, so I think all religions are equally imaginary, and I think prejudice against any religion is equally distasteful.</i><br/><br/>Second, Oliver Twist is a shitty book. His second, following the comedic Pickwick Papers, it shows Dickens reaching for new territory: exposing the hopelessness and injustice of destitute life in London. But it's maudlin, obvious, predictable, lame. Oliver is such a simpering bitch that it's impossible to give a shit about him. Bad people want to use him; good people want to pamper him; readers are bored. Dickens will write great books, but not yet.<br/><br/>To be fair, not that I want to be, in the last chapters of Oliver Twist, he's figured it out. Nancy and Sikes suddenly take over the book, although I doubt Dickens knew they would, in a denouement of terrific power; and Fagin's last scene is equally powerful. But it's way too little, way too late. <br/><br/>It's Banned Book Week as I write this, and I don't think Oliver Twist should be banned. I think people need to know that the most loved British writer since Shakespeare wrote this. I wouldn't assign it in a class, because it sucks, but I would make sure my students understand that Dickens is responsible for it. <br/><br/>It's a shitty little book. It makes me think less of Dickens. I wish he'd known better.
Review by martensgirl
16/06/2015
Having developed an aversion to Dickens having been forced to read Great Expectations at school, I was pleasantly surprised by how good this book is. Some of Dickens' characters are hilarious and he describes their idiosyncrasies beautifully!
Also in the Penguin Clothbound Classics series | View all