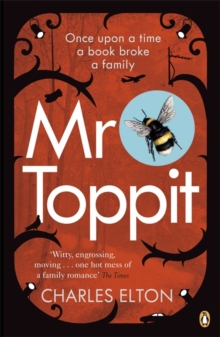 Description
And out of the Darkwood Mr Toppit comes, and he comes not for you, or for me, but for all of us...When the author of The Hayseed Chronicles, Arthur Hayman, is mown down by a concrete truck in Soho, his legacy passes to his widow, Martha, and her children - the fragile Rachel, and Luke, reluctantly immortalised as Luke Hayseed, the central character of his father's books.
But others want their share, particularly Laurie, who has a mysterious agenda of her own that changes all their lives.
For buried deep in the books lie secrets which threaten to be revealed as the family begins to crumble under the heavy burden of their inheritance. Spanning several decades, from the heyday of the British film industry after the war to the cut-throat world of show business in Los Angeles, Mr Toppit is a riveting tale of the unexpected effects of sudden fame and fortune.
Not since Jonathan Coe's What a Carve Up! has a novel managed to capture a family and a society to such wonderfully funny and painful effect.
Information
Format: Paperback
Pages: 352 pages
Publisher: Penguin Books Ltd
Publication Date: 30/04/2009
ISBN: 9780141038001
Other Formats
Paperback from £7.69
EPUB from £4.99
eAudiobook MP3 from £16.76
Free Home Delivery
on all orders
Pick up orders
from local bookshops
Reviews
Showing 1 - 5 of 5 reviews.
Review by eleanor_eader
16/06/2015
And out of the Darkwood Mr Toppit comes, and he comes not for you, or for me, but for all of us.There is a cleverly woven thread of sinister oddness that runs through this family saga, the source, the children's fantasy series written by the deceased Arthur Hayman, and the effects of these books on his surviving family. The darkly unrealised character of Mr. Toppit lurks on every page, as Luke Hayman, who would rather have been left a less intrusive legacy than being know as 'Luke Hayseed', the boy from the stories, narrates his family's struggle to live down the books as they grow in popularity. The introduction of the American woman, Laurie, who builds her career on the back of her love for the books, is one of those characters who bring an instant warped sadness to any book; Luke's fragile sister Rachel pales against this large, interesting personality, but has her moment to devastate the reader, all the same.There are a few interesting – even tongue-in-cheek – parallels between the Hayseed books and A.A.Milne's immortal tales written for his son, but something fell flat in the telling of Mr. Toppit… although each of the characters are interesting, the dark and amusing nicely balanced, I couldn't help feeling that early indications of excellence were not quite achieved. Some of my disappointment was caused by the realisation that the darkly fantastic elements of the book were to be confined to the children's series, but once I had readjusted my understanding of the story, I still thought that there was a good deal too much wasteland between moments of interest.In short, I liked a lot of it, and won't write Charles Elton off, but he hasn't shot to the top of my must-read list, either.
Review by Mumineurope
16/06/2015
Luke, Rachel, Martha and Laurie. Great read.
Review by Eyejaybee
16/06/2015
An intriguing novel developed from an interesting idea, though I felt that perhaps the author unnecessarily belaboured the issues of psychiatric decrepitude and dysfunctional families – I get enough of all that at home!
Review by soybean-soybean
16/06/2015
The proverb Never judge a book by its cover is most apt for this book. Although supposedly fiction, it read like an autobiography in passing. Took me several jumpstarts to try keep on trudging through this literary landscape. To be fair, it was lightly engaging. It's just that i'd expected something with 'real' magic and fantastical adventure, based on the artwork on the cover and on the title itself, which had showed such promise, before i started reading page 1, whereupon my heart sank, having come to the realisation that it wasn't what i'd hoped for. It didn't even have a happy ending, so stark and somewhat disturbing, about a non-conventional family who'd got international fame due to a series of fictional books that the patriarch of the family had written right up until his accidental demise. drugs, booze, mental institution centres and messed up human psyches with all its failings played a large part in this book. All in all, i wish i hadn't bought it, and had paid more attention to the fact that it hadnt been shelved in the childrens fiction nor fantasy adventure area of the bookstore. That really oughtve given me a hint, but as i'd alluded to before, it's that damn beguiling title and cover illustration that suckered me in.
Review by passion4reading
16/06/2015
I was intrigued by the blurb on the back cover ('... jangly with secrets'), but the secrets were pretty few and far between. I couldn't warm to any of the characters apart from the main narrator, Luke, and I wanted the book to end for all the wrong reasons. In my opinion there was virtually no character progression there, and instead the reader gets treated to lots of incidental, irrelevant and distracting background for some of the minor players, including a Round Robin letter from Laurie's radio station boss-turned-manager. The author does make the occasional valid, thought-provoking point, and Luke's voice is suitably wry and dead-pan to raise the occasional smile, but those are not enough to save the book. One for the charity shop, I'm afraid.