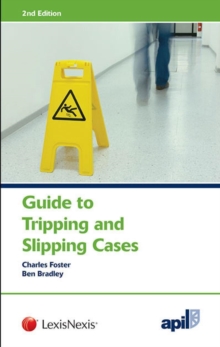 APIL Guide to Tripping and Slipping Cases
Paperback
Description
Tripping and slipping cases form a large part of the typical personal injury lawyers practice.
Not all cases are straightforward; many involve complex questions of law.
The APIL Guide to Tripping and Slipping Cases is a one-stop text.
It covers all the legal disciplines that can come into play in a tripping or slipping case Local Government, Landlord and Tenant, Occupiers Liability, Highways, Health and Safety at Work, and so on.
It gives detailed guidance on the applicable law, procedure and practice.
It has a big library of precedents, from checklists and letters through to Statements of Case.
Most of the relevant guidelines are included as appendices, and the facts and principles of the key cases (often contained in inaccessible law reports) are distilled into case summaries. This new edition has been revised to include the following developments:• Substantial changes at common law in respect of the way in which the tort of nuisance can be deployed in Highway cases (with particular reference to the Court of Appeal decisions of Valentine v Transport for London and another [2010] EWCA Civ 1358 and Ali v Bradford MDC [2012] 1 W.L.R. 161)• An update of recent case-law pertaining to the application of the s.58 statutory defence (particularly in respect of the allocation of resources, and the effect of non-compliance with the Code of Practice), arising out of the authorities of Wilkinson v City of York Council [2011] EWCA Civ 207, and AC v Devon CC [2013] EWCA Civ 418• Consideration of the circumstances in which a Ward v Tesco defence still applies in light of Butcher v Southend-on-Sea BC [2014] EWCA Civ 1556• An update to the Workplace Accidents section, in view of the introduction of the Enterprise and Regulatory Reform Act 2013
Information
Format: Paperback
Pages: 342 pages
Publisher: Jordan Publishing Ltd
Publication Date: 13/11/2015
Category: Personal injury
ISBN: 9781784730765
Free Home Delivery
on all orders
Pick up orders
from local bookshops