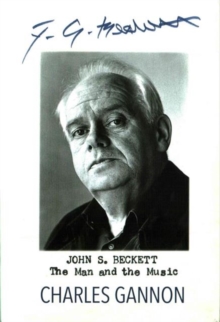 John S. Beckett : The Man and the Music
Hardback
Description
John S. Beckett (1927-2007) is remembered in his native Ireland primarily as a harpsichordist and interpreter of Bach, and in the UK as a conductor of the early music group Musica Reservata.
He also composed avant-garde incidental music for radio plays and work by his celebrated cousin, Samuel Beckett, broadcast by the BBC Third Programme, and wrote music for RTE documentary programmes.
He was a consummate performer on several instruments and an authoritative, if somewhat controversial, conductor.
His taste in music ranged from early to modern, and encompassed folk, ethnic and jazz.
Although he once proclaimed that he could not live without music, music was not his only passion: he also read voraciously, was interested in films, the theatre, art and pottery, and loved to travel to out-of- the-way places where he could relax and savour the local food and countryside.His varied career included early attempts at composing music for public performances, devising music programmes for Radio Eireann, writing for The Bell magazine, working for a brief spell in Dublin's tiny Pike Theatre, presenting and performing in music programmes for the BBC Third Programme, conducting a series of Bach cantata concerts in Dublin over a ten-year period, and working as a producer and presenter for BBC Radio 3. His reputation as a gruff, confrontational individual with a liking for garlic, Guinness and whiskey was belied by his gift for friendship and furthered by an immersion in Dublin's intellectual and artistic Bohemia.
Among his acquaintances were the writers Aidan Higgins, Anthony Cronin, Patrick Kavanagh, Brendan Behan, Arland Ussher and James Plunkett, the composers E.J.
Moeran and Frederick May, the singers Alfred Deller and Werner Schurmann, the musician John O'Sullivan, the publisher John Calder, Ralph Cusack, Desmond MacNamara, Petr and Vera Skrabanek, and the journalist, writer and musician David Cairns.Unpublished letters by Samuel Beckett, James Plunkett, Aidan Higgins and Irish music critic Charles Acton add to archival information gleaned from sources in Ireland and England.
Information
Format: Hardback
Pages: 567 pages
Publisher: The Lilliput Press Ltd
Publication Date: 20/06/2016
Category: Western "classical" music
ISBN: 9781843516651
Free Home Delivery
on all orders
Pick up orders
from local bookshops
Also by Charles Gannon