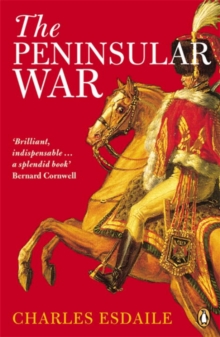 The Peninsular War : A New History
Paperback
Description
For centuries Spain had been the most feared and predatory power in Europe - it had the largest empire and one of the world's great navies to defend it. Nothing could have prepared the Spanish for the devastating implosion of 1805-14.
Trafalgar destroyed its navy and the country degenerated into a brutalized shambles with French and British armies marching across it at will. The result was a war which killed over a million Spaniards and ended its empire.This book is the first in a generation to come to terms with this spectacular and terrible conflict, immortalised by Goya and the arena in which Wellington and his redcoats carved out one of the greatest episodes in British military history.
Information
Format: Paperback
Pages: 624 pages
Publisher: Penguin Books Ltd
Publication Date: 02/10/2003
Category: European history
ISBN: 9780140273700
Free Home Delivery
on all orders
Pick up orders
from local bookshops
Reviews
Showing 1 - 1 of 1 reviews.
Review by jcbrunner
16/06/2015
The classic British story of the Peninsular War follows the Henry V template of a merry band of brothers winning against the odds. Charles J. Esdaile's account puts the Portuguese and the Spanish back into the picture and also reveals that the French were hampered by both the guerrilla war and the need to send massive forces back to France. The British victories were thus based on both Wellington's excellent husbanding of his forces and the French having to fight with one hand tied behind their back.Spain meanwhile was ravaged internally by the political fights between modernizers (split in turn between pro- and anti-French wings) and conservatives (split between monarchists and nationalists). Just as today, Spain is divided into different regions with highly local power centers whose primary mission is to rule their local environment. The weakness to near absence of the central government made Spain easy to conquer but difficult to govern. While Britain managed to rule India with a few thousand troops, France sank hundred of thousands of troops into Spain's endless landscape. Just like the Americans in Afghanistan, the decentralized presence of armed forces pacified and infuriated the locals at the same time. Thomas Jefferson's phrase about holding the wolf by its neck applies: France had to hold on whether it wanted or not. France foolishly tried to conquer the whole peninsula, a task it lacked the logistics and the resources. A containment strategy based on French-oriented Eastern Spain might have been a better choice. John Moore's retreat to Corunna showed how vulnerable an overextended British army was.While the book sometimes offers too much details about Spanish political sideshows, it remains currently the best account of the Peninsular War from a British and Spanish point of view. The French voice is not as present as I would have liked, but it is probably too much too ask from one man to overview so many different sources in different languages. The maps are not very helpful. Osprey's Peninsular War Atlas is a great complement to this book. Recommended.