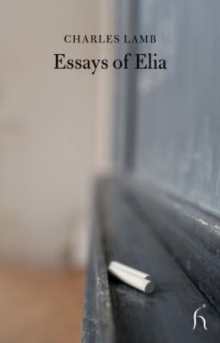 Description
By turns witty, insightful, self-deprecating and philosophical, in these essays Lamb offers an unusually warm, human glimpse of life in a circle that included such luminaries as Coleridge, Wordsworth and William Hazlitt.
Published in 'The London Magazine' in the early 1820s, these often nostalgic essays are an important document in the development of autobiographical writing.
Information
Format: Paperback
Pages: 120 pages
Publisher: Hesperus Press Ltd
Publication Date: 25/09/2009
Category: Literary essays
ISBN: 9781843911739
Other Formats
Paperback from £12.85
PDF from £21.60
Paperback / softback from £15.09
Hardback from £22.75
Free Home Delivery
on all orders
Pick up orders
from local bookshops
Reviews
Showing 1 - 5 of 8 reviews.
Previous | Next
Review by RoboSchro
16/06/2015
"I am one of those, who freely and ungrudgingly impart a share of the good things of this life which fall to their lot (few as mine are in this kind) to a friend. I protest I take as great an interest in my friend's pleasures, his relishes, and proper satisfactions, as in mine own."Having read this rather delightful little volume, I can believe it. Originally published in 1823, these essays give us a glimpse into a vanished everyday, coloured by the homely and conservative tastes of a London nostalgic."Elia" spends little time on big issues. His concern is for the trivial, the comforting, the eccentric. Topics that get particular attention include the theatre, the Temple area of London, childhood, and food. We get affectionate portraits of old ladies, lawyers, artists, and chimney sweeps. There are bitter or critical passages, on theatre audiences, old schoolmasters, or prayer habits, that stop the book from becoming too sentimental.Probably the most compelling thing about the book to a modern reader is the perspective it gives on a particular period in history. This isn't a historian's history, it's a window on eighteenth-century London provided by a contemporary observer. It's hardly thorough -- Lamb's attention flits about erratically -- but it's authentic. Well, mostly so -- "Elia"'s life isn't Charles Lamb's, and there is much talk of family without a mention of the sort of tragedy that affected Lamb's own family.As this book was kindly provided by Hesperus Press for review, I should comment on this particular edition. For scholars, I wouldn't particulary recommend it. The footnotes are incredibly sparse, so much so that one wonders why they're present at all; and Lamb's own notes in the text sometimes appear on the wrong page. But for the casual reader, what Hesperus have done fits the bill well. It's elegantly presented, and both looks and feels like a quality volume.All in all, a pleasure to read.
Review by jnyrose
16/06/2015
What a lovely little book. Lamb's "Essays of Elia" is one of those books that encourage you to find a quiet place to read with a cup of tea and to just allow the words, images, and emotions to wash over you. They run the gamut from nostalgia to detailed observations of human nature and are just fun to dip in and out of over a week or so. This is a slim volume and not intimidating at all and a great picture of the England of Lamb's childhood. Much fun.
Review by carlym
16/06/2015
I really expected to like this book, but I couldn't even finish it. After reading several essays--about a quarter of the book--I decided it wasn't worth reading any more. The essays do contain some witty bits, and I liked the one about celebrating New Year's okay, but on the whole, they are too antiquated to be enjoyable. They reference people and things I've never heard of, which makes them difficult to puzzle out. For example, an essay on Valentine's Day contains these sentences: "Or wert thou indeed a mortal prelate, with thy tippet and thy rochet, thy apron on, and decent lawn sleeves? Mysterious personage! Like unto thee, assuredly, there is no other mitred father in the calendar; not Jerome, nor Ambrose, nor Cyril . . . " and so on. I have no idea what a "tippet" and a "rochet" are, nor am I familiar with any of the people named. For a reader who has the right frame of reference, these might be enjoyable. For me, I didn't understand enough of the references to even understand half of what Lamb was saying.
Review by 4daisies
16/06/2015
This collection of essays gives a look at life as it was in England in the late 18th-early 19th centuries. At times it was challenging to read with the language so changed from then to now, but it was worth the effort. I came to realize that, while the language has evolved, the behavior of people remains largely the same. The bullies that existed then, exist now, the same prejudices and discrimination haunt modern society that tore at the fabric of polite English society then. There were certainly bright spots as well, my favorite being the Mackery End, In Hertfordshire in which he describes his comfortable platonic relationship with his long time live-in housekeeper/cousin Bridget Elia. Both of them avid readers but with distinctly different tastes in books. "We are both great readers in different directions. While I am hanging over (for the thousandth time) some passage in old Burton, or one of his strange contemporaries, she is abstracted in some modern tale, or adventure, whereof our common reading table is daily fed with assiduously fresh supplies. Narrative teases me. I have little concern in the progress of events. She must have a story - well, ill, or indifferently told - so there be life stirring in it, an plenty of good or evil accidents." If you have patience dear reader, relax your mind and absorb the stories, you will be rewarded with many little gems in this collection.
Review by pensivepoet
16/06/2015
From the foreword, I was already taken with this slim volume Hesperus Press.Opening with descriptions of nostalgia as a once serious medical condition I could see contrasts between modern life, the modern life of yesteryear, and the life of the "days gone by" for Lamb's time. A quoted description of a nostalgic is offered as: [one who] 'does what he is told... he proffers not a single word of reproach against those whomake his life miserable'. It was intriguing that such passivity could be considered undesirable, when at times it seems modern psychiatry is striving for the absence of complaint. Today, my feeling is that- for the most part, we (as a society) would see one who 'offers a word of reproach' to be being difficult person. Then again, that is my personal musing on the current rights of individuals who hold opinions strongly. But, for me, from the opening of the Hesperus edition I could already see juxtapositions between the lives and attitudes of different times.While modern readers may not be intimately familiar with the surrounding Lamb refers to in the book, there remains a wealth of relevant information in the descriptions. We may have never seen the South-Sea "house of trade" but in the tale of the of the accountants "taking part in the genius of the place" a reader not only finds nostalgia, but a process of "dumbing down" and "homogenization" that continues to exist in parts of corporate culture. Or, to take a more personal example, Lambs essay on "The behavior of married people" does not fail to provide many relate-able, humorous, musings on married couples being "too forgiving, too loving". I loved the essays! And believe them to be a fine purchase for both historical collector and anyone willing to bear with nostalgia for the reward of chuckles.
Also in the Hesperus Classics series | View all