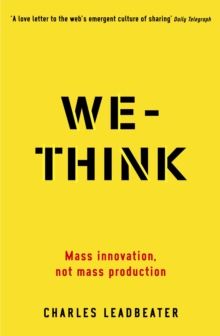 We-Think : Mass innovation, not mass production
Paperback
Description
Society is no longer based on mass consumption but on mass participation.
New forms of collaboration - such as Wikipedia and YouTube - are paving the way for an age in which people want to be players, rather than mere spectators, in the production process.
In the 1980s, Charles Leadbeater's prescient book, In Search of Work, anticipated the growth of flexible employment.
Now We-think explains how the rise of mass collaboration will affect us and the world in which we live.
Information
Format: Paperback
Pages: 336 pages
Publisher: Profile Books Ltd
Publication Date: 12/02/2009
Category: Popular culture
ISBN: 9781861978370
Free Home Delivery
on all orders
Pick up orders
from local bookshops
Reviews
Showing 1 - 1 of 1 reviews.
Review by WoodsieGirl
16/06/2015
Charles Leadbetter gives a fascinating tour through the possibilities that collaboration on the web opens up. He talks through the new ethos of "you are what you share", and explains how the principle of open-source can be harnessed not simply for software and other intellectual and creative pursuits, but also in fields as diverse as engineering, education and healthcare. Leadbetter's central premise is that the more people who have access to the information and tools needed to develop an idea, the greater the chances of a truly innovative leap being made.I found the idea fascinating. I saw Leadbetter giving a talk about this topic at the UKSG conference in April this year, and it was hard not to get caught up in his obvious enthusiasm, which is as infectious in his writing as it is in his public speaking. I do think that the barriers that intellectual property law in its current form present to the widespread adoption of We-Think deserved more than the cursory treatment they get in the book. Much as I agree that IP law is long overdue for a thorough overhaul, it is nonetheless what we have to work with at the moment. I do however accept that Leadbetter's aim was probably not to provide a blueprint for how We-Think is to succeed, but to provoke thought and discussion, and in that he has certainly succeeded. I would take much of what he says with a pinch of salt - he does at times sound perilously close to the "utopian cretin" that an early commenter on the first draft, published online, accused him of being. This isn't to suggest that Leadbetter's ideas aren't worthy of consideration though - I would recommend anyone with an interest in communication, information management and creativity to pick up this book.