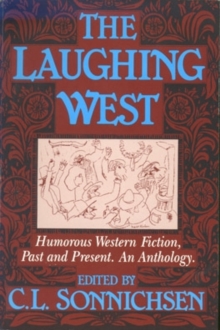 The Laughing West : Humorous Western Fiction, Past and Present
Paperback / softback
Description
Without humor, the American West would be a vast territory of arid clich\u00e9s - stolid cowboys and fearless lawmen, or, in more modern visions, dastardly land developers and fanatical environmentalists - all of them as lifeless as an alkalai flat.
In The Laughing West, Professor C. L. Sonnichsen presents a generous selection of humorous western writing and shows how the humorous perspective comes closer to the truth about the west than either the romance of the \u201cold West\u201d or the sometimes bitter anti-romanticism of the new west.
As Leslie Fiedler has observed, \u201cto understand the West as somehow a joke comes a little closer to getter it straight.\u201dThe Laughing West consists of twenty-one pieces of humorous western writing, along with a general introduction, section introductions and an afterword.
Throughout the book, the humor is based on character, and on how our perception of the familiar character types has evolved over the years.
The reader is treated to a gallery of western originals: from the practical joker Slewfoot Samuels in Bill Gulick's \u201cThe Marriage of Moon Wind,\u201d to Eddie Bud Boyd, the fast-talking cattle broker in Glendon Swarthout's The Cadillac Cowboys; from the Texas A&M-educated Sheriff \u201cFreight Train\u201d Flowers in Peeper by William Brinkley, to the brilliantly devious Governor Cullie Blanton in The One-Eyed Man by Larry L.
King. In addition to the traditional cowboys, Indians, and Mexicans, The Laughing West shows some contemporary western faces: the new breed of lawman, the rootless pilgrim, and the new urban westerner, typified by \u201cSlick,\u201d in Dan Jenkins' Baja Oklahoma complaining about the \u201cChateau-le-44.50\u201d in the poshest restaurant in a Dallas shopping mall.
Information
Format: Paperback / softback
Pages: 312 pages
Publisher: Ohio University Press
Publication Date: 15/06/1988
ISBN: 9780804009027
Free Home Delivery
on all orders
Pick up orders
from local bookshops
Also by Charles Leland Sonnichsen