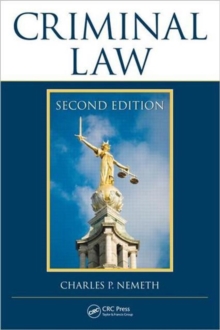 Criminal Law, Second Edition
Hardback
Description
In order to fully grasp criminal law concepts, students must go beyond mere rote memorization of the penal code and attempt to understand where the laws originate from and how they have developed.
Criminal Law, Second Edition blends legal and moral reasoning in the examination of crimes and explores the history relating to jurisprudence and roots of criminal law.
It fosters discussions of controversial issues and delivers abridged case law decisions that target the essence of appellate rulings. Grounded in the model penal code, making the text national in scope, this volume examines:Why the criminal codes originated, and the moral, religious, spiritual, and human influences that led to our present systemHow crimes are described in the modern criminal justice modelThe two essential elements necessary for criminal culpability: actus reus (the act committed or omitted) and mens rea (the mind and intent of the actor)Offenses against the body resulting in death, including murder, manslaughter, felony murder, and negligent homicideNonterminal criminal conduct against the body, including robbery, kidnapping, false imprisonment, assault, and hate crimesSexual assault, rape, necrophilia, incest, and child molestationProperty offenses, such as larceny/theft, bribery, forgery, and embezzlementCrimes against the home, including burglary, trespass, arson, and vandalismThe book also examines controversial public morality issues such as prostitution, drug legalization, obscenity, and pornography.
The final two chapters discuss inchoate offenses, where the criminal act has not been completed, and various criminal defenses such as legal insanity, entrapment, coercion, self-defense, and mistake of fact or law. Important keywords introduce each chapter, and discussion questions and suggested readings appear at the end of each chapter, prompting lively debate and further inquiry into a fascinating subject area that continues to evolve.
Information
Format: Hardback
Pages: 610 pages, No equations; 66 Illustrations, black and white
Publisher: Taylor & Francis Inc
Publication Date: 15/11/2011
Category: Criminal law & procedure
ISBN: 9781439861714
Free Home Delivery
on all orders
Pick up orders
from local bookshops