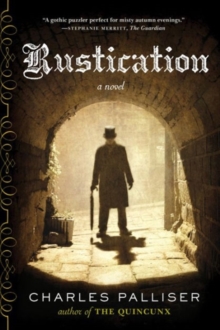 Rustication : A Novel
Paperback
Description
Charles Palliser's work has been hailed as "so compulsively absorbing that reality disappears" (New York Times).
Since his extraordinary debut, The Quincunx, his works have sold over one million copies worldwide.
With his new novel, Rustication, he returns to the town of Thurchester, which he evoked so hauntingly in The Unburied. It is winter 1863, and Richard Shenstone, aged seventeen, has been sent down-"rusticated"-from Cambridge under a cloud of suspicion.
Addicted to opium and tormented by sexual desire, he finds temporary refuge in a dilapidated old mansion on the southern English coast inhabited by his newly impoverished mother and his sister, Effie.
Soon, graphic and threatening letters begin to circulate among his neighbors, and Richard finds himself the leading suspect in a series of crimes and misdemeanors ranging from vivisection to murder. Atmospheric, lurid, and brilliantly executed, Rustication confirms Palliser's reputation as "our leading contemporary Victorian novelist" (Guardian).
Information
Format: Paperback
Pages: 336 pages
Publisher: WW Norton & Co
Publication Date: 08/11/2013
ISBN: 9780393348231
Other Formats
Paperback from £10.59
Hardback from £16.29
Free Home Delivery
on all orders
Pick up orders
from local bookshops
Reviews
Showing 1 - 1 of 1 reviews.
Review by pgmcc
16/06/2015
Rustication is Charles Palliser's latest novel (published November, 2013). His first novel, The Quincunx, was published in 1989 and it was written in the style of Charles Dickens as a literary exercise, Palliser being at the time a lecturer in literature and creative writing. Quincunx is a masterpiece.His latest novel, while not the masterpiece that Quincunx was, is still an interesting book and an enjoyable read. Its format is that of a journal written by a seventeen year old boy, Richard Shenstone, who has been rusticated by Cambridge University, i.e. "sent down", or more literally, "sent to the country", or in more modern terms, suspended from college as a punishment. The Journal spans the days from his arrival in his mother's house on 12th December 1863 to the culmination of events in the story on the 13th January 1864.This story is a mystery and I will go into no more detail about the plot but I will comment on Palliser's skill at misdirection and obfuscation. Even in the final pages of the novel I was not sure how it was going to end.Throughout the book the reader is fed the views and thoughts of the author of the journal and his journal entries purportedly record his interactions and conversations with other people in the district and within his family. As a reader I was constantly asking myself if I was dealing with an unreliable narrator, was the reportage accurate, was the journal an elaborate red herring, etc…The book holds the attention but the pace is a little slow for the first one hundred pages but it picks up speed for the final chapters. This is the second Palliser novel I have read but I will certainly be reading his others.This is a book I would love to discuss with someone who has read it but I do not want to give away too many details in this review as that would spoil the experience.