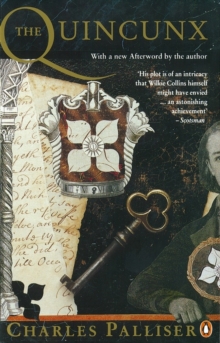 The Quincunx : The Inheritance of John Huffam
Paperback
Description
The Quincunx is an epic Dickensian-like mystery novel set in 19th century England, and concerns the varying fortunes of young John Huffam and his mother.
A thrilling complex plot is made more intriguing by the unreliable narrator of the book - how much can we believe of what he says?
First published in 1989, The Quincunx was a surprise bestseller and began a trend for pastiche Victorian novels.
It remains one of the best.
Information
Format: Paperback
Pages: 1248 pages
Publisher: Penguin Books Ltd
Publication Date: 29/06/1995
ISBN: 9780140177626
Free Home Delivery
on all orders
Pick up orders
from local bookshops
Reviews
Showing 1 - 5 of 6 reviews.
Previous | Next
Review by ablueidol
16/06/2015
Bit of a sucker for a good victorian melodrama without the pages of desctiption that tend to put me off reading say Dickens. Love the fact that the author is as much achacter in the story morallsing and speculating as the players are.
Review by bibliobeck
16/06/2015
I love this book! It's a mathematical/historical mystery and so much more. It really needs reading with a notepad by your side which I intend to do on the second reading. I became so enthralled that I was reading late into the night (and early into the morning). I've just ordered The Unburied and have very high expectations.
Review by poulantik
16/06/2015
a fantastic novel in the dickensian style about a struggle for nobility and with a precise and gruesom desciption of London in early 19th century.
Review by riverwillow
16/06/2015
I didn't think they wrote books like this any more. I will admit to having a great deal of affection for the nineteenth century novel and this novel ranks alongside those sweeping novels written by Dickens and Eliot in its complexity and density. Wonderful.
Review by adpaton
16/06/2015
One of the most paradoxical books I have ever read, the Quincunx is a plot-driven page-turner, well-written and compulsively readable, yet dense and boring at times, more inexplicable than mysterious - more parody than pastiche. Palliser was obviously influenced by Charles Dickens, taking his main inspiration from the books Bleak House - both deal with a chancery suit and inheritance - and David Copperfield - both feature weak and foolish mothers plus sojourns in the criminal undersworld - and Quincunx is seriously unsuitable to anyone who does not like their books long and wordy and perplexingly indirect. The hero is named [initially] Huffam, but that is the only semi-normal name in the book as the writer proceeds to deliver names of increasing lenth and unlikeliness - as he explains in the afterword, he has been collecting unusual names for decades, and Mompesson, Barbellion and Fortisquince are pretty commonplace compared to some of the more outlandish surnames he uses, such as Advowson, Maliphant and Palphramond.Then there is the question of John Huffam's paternity - or John Mallamphy at he is called at this stage. I thought I was just stupid when, given the fraught wedding night enjoyed by Mary and Martin Huffam, I couldn't see any window of opportunity during which conception might have taken place. I reread the brief descriptions in the book and it still seemed unlikely. To my relief, the internet contains a vast body of work devoted to this very theme.I have always wanted to discuss this book with a friend but although I have pressed it on many people, no one has ever taken to it - for which I cannot wholey blame them: fascinating, entranching , spell-binding, even awesome Quincunx may be, but it is not particuarly enjoyable.