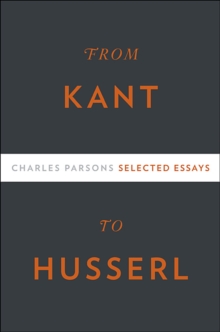 From Kant to Husserl : Selected Essays
Hardback
Description
In From Kant to Husserl, Charles Parsons examines a wide range of historical opinion on philosophical questions, from mathematics to phenomenology.
Amplifying his early ideas on Kant's philosophy of arithmetic, Parsons uses Kant's lectures on metaphysics to explore how his arithmetical concepts relate to the categories.
He then turns to early reactions by two immediate successors of Kant, Johann Schultz and Bernard Bolzano, to shed light on disputed questions regarding interpretation of Kant's philosophy of mathematics.
Interested, as well, in what Kant meant by "pure natural science," Parsons considers the relationship between the first Critique and the Metaphysical Foundations of Natural Science.
His commentary on Kant's Transcendental Aesthetic departs from mathematics to engage the vexed question of what it tells about the meaning of Kant's transcendental idealism. Proceeding on to phenomenology, Parsons examines Frege's evolving idea of extensions, his attitude toward set theory, and his correspondence, particularly exchanges with Russell and Husserl.
An essay on Brentano brings out, in the case of judgment, an alternative to the now standard Fregean view of negation, and, on truth, alternatives to the traditional correspondence view that are still discussed today.
Ending with the question of why Husserl did not take the "linguistic turn," a final essay included here marks the only article-length discussion of Husserl Parsons has ever written, despite a long-standing engagement with this philosopher.
Information
Format: Hardback
Pages: 256 pages, 1 line illustration
Publisher: Harvard University Press
Publication Date: 02/03/2012
Category: Phenomenology & Existentialism
ISBN: 9780674048539
Free Home Delivery
on all orders
Pick up orders
from local bookshops