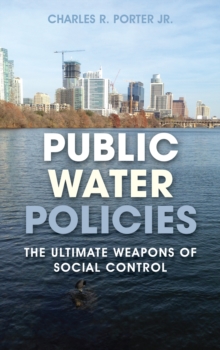 Public Water Policies : The Ultimate Weapons of Social Control
Hardback
Description
Although water is nature's most important molecule; its regulation and management are the most challenging public policy issues for any society.
Water is the common denominator of all life on earth.
Public water policies then become the fundamental foundations of community formation anywhere.
Cities exist in their places based on the local access to adequate amounts of fresh water.
Without fair, workable, and transparent public water policy any society is threatened with socio-economic destruction, especially in the arid areas living under severe drought and the threat of warming trends worldwide.
Public Water Policies: The Ultimate Weapons of Social Control*Provides an interdisciplinary view of water policies worldwide*Critically analyzes the consequences of water policies around the world, many that are not only overlooked, but that have never been considered*Analyzes the conflicts in social values of any society that demand hard choices between population growth, economic growth, and the environment*Provides a new perspective on the overall long-reaching economic consequences of water policy. *Offers four new terms to describe public water policies in relation to social control: due process social control, deceptive social control, diplomatic social control, and destructive social control *Compares and contrasts water policies in key places in the world using the new terms of social control to enlighten the public and especially those water policymakers worldwide
Information
Format: Hardback
Pages: 212 pages, 24 Halftones, black and white; 17 Illustrations, black and white
Publisher: Rowman & Littlefield
Publication Date: 31/08/2018
Category: Social welfare & social services
ISBN: 9781641433006