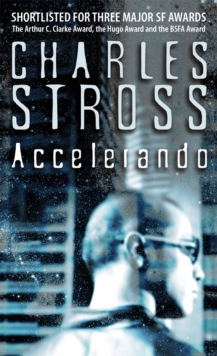 Description
His most ambitious novel to date, ACCELERANDO is a multi-generational saga following a brilliant clan of 21st-century posthumans.
The year is some time between 2010 and 2015. The recession has ended, but populations are ageing and the rate of tech change is accelerating dizzyingly.
Manfred makes his living from spreading ideas around, putting people in touch with one another and leaving a spray of technologies in his wake.
He lives at the cutting edge of intelligence amplification technology, but even Manfred can take on too much. And when his pet robot cat picks up some interesting information from the SETI data, his world - and the world of his descendants - is turned on its head.
Information
Format: Paperback
Pages: 448 pages
Publisher: Little, Brown Book Group
Publication Date: 01/06/2006
Category: Science fiction
ISBN: 9781841493893
Free Home Delivery
on all orders
Pick up orders
from local bookshops
Reviews
Showing 1 - 5 of 9 reviews.
Previous | Next
Review by lewispike
16/06/2015
This is really short stories tied together by characters. It's not everyone's cup of tea, but I loved it. Lots of things like where Web 2.0 will take us explored in an interesting way.
Review by defrog
16/06/2015
This is what I end up reading when Warren Ellis namedrops someone. Stross is Ellis' kind of palooka: a twisted imagination and lyrical prose rooted in science so hard you practically need a degree in it to keep up. Stross has at least two degrees and it shows, what with about 40 scientific/IT tech buzzwords hurled at you per paragraph. Beyond that it's basically a generational family feud story covering the 21st century. In terms of tracking how IT will transform the world, the solar system and humans, it's pretty thorough, with theories on post-capitalist Democracy 2.0 and everything. Impressive, but so much hard work I was glad to be done with it.
Review by m.a.harding
16/06/2015
the best review I have seen is 'exploding ideas factory'. educational and bloody fun
Review by emed0s
16/06/2015
For the first hundred pages I thought the writer, instead of writing himself, had just developed a computer program that took random text snippets from Slashdot discussions and mixed them to generate some kind of literary nonsense. Cause the book is no more than a lot of technobabbling mixed with some explicit sex passages.The last 300 pages are more technology chatter but now said chatter comes straight, and raw, from the writer's imagination and it gets worse and worse, think miniaturization plus space travel, as he seems not to know where he wants to take the story.If anything the books explores a little bit into the post-scarcity economics issue, but that doesn't make the book as a whole any better.
Review by Uffer
16/06/2015
If you're looking for a book to unwind with, you may want to keep looking. Accelerando is dense with new and strange concepts, scattered across paragraphs in passing like confetti, and, for the most part, you aren't getting any kind of explanation of what they are or how or why. For the bits where you really need to understand what's going on to follow the plot, you get /just/ enough explanation to bluff your way through if you stretch a bit, but you may be at risk of a small bout of future-shock of your own, anyway. (This does appear to be more or less intentional though, so just sit back and enjoy the side-effects.)I enjoyed it, though. The plot is a little bit bumpy in a couple of spots - the book is apparently a number of shorter stories bolted together and tightened up until they squeak - but it's about as far-reaching as it gets, arcing from near-present to beyond singularity, each thing building on the previous in a logical enough way that soon enough adds up to a post-singularity Frankenstein, and it's going to take more than a mob with pitchforks and torches to sort this one out.Well worth the time and effort.