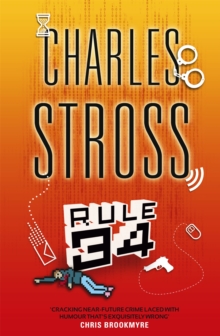 Description
DI Liz Kavanaugh: You realise policing internet porn is your life and your career went down the pan five years ago.
But when a fetishist dies on your watch, the Rule 34 Squad moves from low priority to worryingly high profile.
Anwar: As an ex-con, you'd like to think your identity fraud days are over.
Especially as you've landed a legit job (through a shady mate).
Although now that you're Consul for a shiny new Eastern European Republic, you've no idea what comes next.
The Toymaker: Your meds are wearing off and people are stalking you through Edinburgh's undergrowth.
But that's OK, because as a distraction, you're project manager of a sophisticated criminal operation.
But who's killing off potential recruits? So how do bizarre domestic fatalities, dodgy downloads and a European spamming network fit together?
The more DI Kavanaugh learns, the less she wants to find out.
Information
Format: Paperback
Pages: 400 pages
Publisher: Little, Brown Book Group
Publication Date: 01/06/2012
Category: Science fiction
ISBN: 9781841497747
Free Home Delivery
on all orders
Pick up orders
from local bookshops
Reviews
Showing 1 - 1 of 1 reviews.
Review by isabelx
16/06/2015
Most of the public still believe in Sherlock Holmes or Inspector Rebus, the lone genius with an eye for clues: And it suits the brass to maintain the illusion of inscrutable detective insight for political reasons.But the reality is that behind the magic curtain, there's a bunch of uniformed desk pilots frantically shuffling terabytes of information, forensic reports and mobile-phone-traffic metadata and public-webcam streams and directed interviews, looking for patterns in the data deluge spewing from the fire-hose. Indeed, a murder investigation is a lot like a mechanical turk: a machine that resembles a marvellous piece of artificial-intelligence software, oracular in its acuity, but that under the hood turns out to be the work of huge numbers of human piece-workers coordinating via network. Crowdsourcing by cop, in other words.I nominated this book to be read by my on-line book club, and from people's initial comments, it seemed not to be a very popular choice. Most people found the second person annoying at least to start with, or found that having so many viewpoint characters meant that they couldn't relate to any of them. People though there was too much technical detail and found the Kyrgyzstan and Issyk-Kulistan politics confusing, and a couple said that it would be better as a short story. On the other hand, this book did lead to a lot more discussion than most of the other books we have read, with people asking and answering questions about ATHENA and MacDonald's role in the story, and a couple of people commented that although they found it a chore to read, they found themselves thinking about it and talking to other people about it a lot after they finished. So it was a good choice for our book club after all. I enjoyed this book a lot, and the main thing that I found confusing was about the Issyk-Kulistan bonds, which I had to go back and re-read again after I finished. After re-reading that section it did make sense, so I was probably rushing too much the first time. The second person viewpoint ceased to bother me about half way through and my early thoughts about second person being like a game master talking about what your game character is doing weren't far off the mark as it turns out. By the mid-point I was wondering how the author could possibly expect his readers to accept so many unlikely coincidences happening, and it was surprisingly satisfying to find out that there probably wasn't a single coincidence in the whole book. And now I will have to re-read Halting State to find out if that is the case that caused Liz's career to derail so spectacularly, as I can't remember much about the plot of the earlier book.