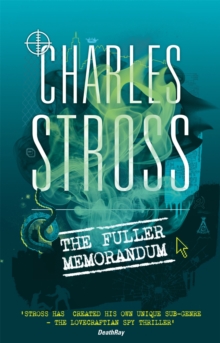 The Fuller Memorandum : Book 3 in The Laundry Files
Paperback
Description
Bob Howard is an IT specialist and field agent for the Laundry, the branch of Her Majesty's secret service that deals with occult threats.
Overworked and underpaid, Bob is used to his two jobs overflowing from a strict nine to five and, since his wife Mo has a very similar job description, he understands that work will sometimes follow her home, too.
But when 'work' involves zombie assassins and minions of a mad god's cult, he realises things are spinning out of control.
When a top-secret dossier goes missing and his boss Angleton is implicated, Bob must contend with suspiciously helpful Russian intelligence operatives and an unscrupulous apocalyptic cult before confronting the decades-old secret that lies at the heart of the Laundry: what is so important about the missing Fuller Memorandum? And why are all the people who know dying . . . ?
Information
Format: Paperback
Pages: 384 pages
Publisher: Little, Brown Book Group
Publication Date: 01/07/2010
Category: Science fiction
ISBN: 9781841497709
Free Home Delivery
on all orders
Pick up orders
from local bookshops
Reviews
Showing 1 - 5 of 7 reviews.
Previous | Next
Review by ianjamison
16/06/2015
This is good stuff; the eldritch horror of the Cthulhu Mythos meets the mundane grind, paranoia and double-think of the spy novels of Le Carre / Deighton. Like the other books in the Laundry series (The Atrocity Archive, and Jennifer Morgue), this continues the adventures of the engagingly nerdy Bob Howard – who works for the bit of the British secret service that doesn't just keep us safe from the conventional forms of terror, but from the "squamous and rugose minions of the elder gods". (If you've read Lovecraft, or any of his imitators, then you get the picture). Stross's stuff in this vein is particularly good because it doesn't go too over the top with the Lovecrafticanism, and does manage to leaven the supernatural mayhem with some humour. (The exception being "A colder war" – a Mythos based short story which is not part of this series, and is as chilling as anything you'll read). Although tempting, I won't give away any of the plot – except to say that it is well-written and pacy, with some good unexpected twists, and some lovely pastiche elements. (I was enchanted to see that a Maths teacher at my old school, in this version of reality, was in fact a bound demon in human form). There's a lot of this rather tongue in cheek mixture of pulp noir and horror about at the moment – the Dresden files (pretty good), the Mike Carey stuff (very good), and the "repairman Jack" novels (pretty bad really), but Stross' Laundry series is the daddy in my opinion. If you've tried it and you like it, then I recommend Kim Newman's "Tales from the Diogenes Club"
Review by gbsallery
16/06/2015
It's a Laundry book. What else can I say? I love Laundry books. I particularly liked the part where the [deleted] became entangled with the [deleted], recursively entering a situation of repetitive [deleted]-summoning. If I had to say a word against it, I'd point my finger at the editor and claim it was a little disjointed, compared to the other books in the series. But I do really, really like the way it's setting things up for some sort of Case Nightmare Green finale.
Review by nicholas
16/06/2015
The third Laundry novel by Charles Stross is, like its predecessors "The Atrocity Archives" and "The Jennifer Morgue", a hugely entertaining Lovecraftian spy thriller. Bob Howard is a technical field support officer for a secret government agency dedicated to preventing or at least ameliorating an event codenamed CASE NIGHTMARE GREEN: the End of the World at the blasphemous tentacles of alien elder gods from beyond conventional space and time. Shortly after Bob's colleague (and wife) Mo returns from a particularly harrowing mission to Amsterdam, his boss, the deeply sinister Dr Angleton, goes missing leaving only a few clues pointing to a conspiracy involving a mole inside the Laundry, and instructions to find a specific, highly secret, extraordinarily dangerous document: the Fuller Memorandum. Armed with only an iPhone (installed with some highly dangerous and illegal occult applications), Bob must discover the identity of the mole, defeat the cultists, locate the eponymous Memorandum, and save the world.
Review by reading_fox
16/06/2015
Weird fun. Technically the third of a series, but pretty well readable in it's own right. There are a few instances of references to prior plot points, but it is all fairly clear what is going on - well given the weirdness of the plot, as clear as it could be.Bob Howard is an operative for the Laundry - a secret (UK) government department, originally established in a flat above a Laundry, hence the name. Now relocated to bigger premises, it still deals with the same theme - preventing and dealing with the aftermarth of occult occurances. For you see in Laundry's world, magic works, specifically summoning entities that surround us. And like all such things it works better faster and more reliably with computers doing the number crunchiong for you. Bob dsicovers that there's a particularly desperate set of Cultists looking to perform a nasty ritual that will summon an ancient 'god' whose liekly actions will destroty the entire world. With a bit of aid and intereferance from the Russians, and office politics Bob attempts to subvert the Cult's grab for an ancient document of Summoning. Accidents never happen through just one mistake, but by a concatenation of events. By the time Bob's girlfriend Mo arrives with her seriously spooky violin (what? why?) it's zombie central.A slightly odd style with lots of digressions. Supposedly the archived journal notes of the author. The digressions include some truly epic rants, especially the hatred Stross seems to bear for Steve Jobs' Apple brand technology. "JesusPhone" had me laughing every time ti came up, and I'm just disappointed that the Cultists didn't all turn out to be 'Mac users. The whole thing is fairly insane, but well worked. There's some good satire on the whole James Bond theme and british civil service in general, mostly though it just rushes along as fast moving action. There's quite a good build-up of tension along the way and some well crafted red-herrings amoungst the various political trails before the grand finale.Highly entertaining and well worth reading
Review by jerevo
16/06/2015
Darker and bleaker than than the two previous Laundry novels, but still sharply and wittily written, and difficult to put down.
Also in the Laundry Files series | View all