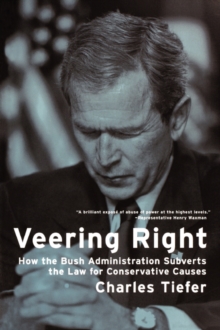 Veering Right : How the Bush Administration Subverts the Law for Conservative Causes
Paperback / softback
Description
In this searing indictment of current administration policy, Charles Tiefer, a distinguished scholar of national legal affairs and former solicitor of the House of Representatives, argues that President George W.
Bush methodically manipulates the law to promote right-wing causes.
The beneficiaries of these machinations range from frontline pro-weapon and anti-women's rights groups to major industries that profit from lax environmental standards and military intervention in resource-rich regions.
Accessibly written, legally rigorous, and meticulously documented, "Veering Right" demonstrates how the administration's already-ample arsenal for accomplishing ideological goals was expanded with weapons such as Attorney General John Ashcroft's social crusades and the polarizing 2004 election campaign.
Tiefer lays out a compelling case for how the administration consistently erects barriers to media and congressional oversight that might expose covert motivations to public scrutiny.With an eye on the future, the White House is building a durable and potentially dominant machine for pursuing ideological goals by awarding lifetime judgeships and by exchanging favors for campaign funding. This book presents eye-opening evidence that ultra-conservatives could achieve previously unimaginable successes during a second Bush term.
As a former Solicitor of the House of Representatives, Tiefer possesses a wealth of insight gleaned from decades of no-holds-barred investigations and judicial struggles.
His wide-ranging perspective takes into account cultural changes, constitutional issues, partisan and electoral developments, and political personalities.
The most exhaustive analysis to date of the Bush administration's real agenda, this book provides a rare insider's view of the strategic, devious, and potentially overpowering ways that presidents make ideological use of the law."Veering Right" documents how President Bush's secrecy and deception undermined the democratic process by misleading Congress and the public about international and domestic matters ranging from doctored Iraq weapons intelligence to covered-up drugmaker subsidies paid for by seniors.
Bush's first term lays the groundwork for even more extreme right wing policies if he is re-elected. This agenda includes tilting the nation's tax structure against the middle class in Democratic states, weakening traditional Medicare by concentrating rising costs on poorer and sicker seniors, and exporting jobs via the trade fast track.
John Ashcroft used religiosity and race-baiting to build his political career and, after 9/11, blocked questioning of his abuses - ranging from concealed undermining of the Bill of Rights to promoting the intolerance of the religious right - by labeling it as suspicious and even treasonous.Bush turned the public's reaction after 9/11 away from the logical Saudi suspects and against Iraq in a spectacular double-play to push his agenda in the world's oil patch.
Secretary of the Interior Gail Norton and her crew of lawyer-lobbyists ran the public's resources and its pollution controls like a candy store for pariah industries.
Bush's domestic legal gambits around big money paid off in 2004 with a historical gross campaign war chest as a quid pro quo for favors rendered.
The Bush Administration dismantled international legal regimes ranging from arms control and women's rights to global climate control and international tobacco regulation. Bush's unilateralist alienation of potential support abroad hobbled both the Iraq occupation and the effort against terrorism.
Information
Format: Paperback / softback
Pages: 455 pages
Publisher: University of California Press
Publication Date: 14/02/2006
ISBN: 9780520248328
Free Home Delivery
on all orders
Pick up orders
from local bookshops