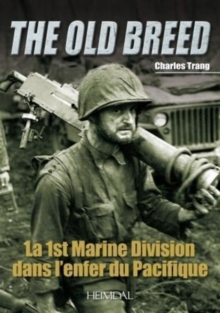 La 1st Marine Division Dans l'Enfer Du Pacifique : The Old Breed
Hardback
Description
This book covers the exploits of the 1st Marine Division.
It show how they fought alone on the Guadalcanal front against the Japanese under particularly difficult circumstances, defeated the Japanese garrisons at Cape Gloucester and Peleliu, and played a key role in the Battle of Okinawa.
It tells of how twenty-two of their men were awarded the Congressional Medal of Honor (when divisions which have been the subject of dozens of publications, such as the 82nd and 101st Airborne have won three each), the most famous of whom was undoubtedly John Basilone.
Each of their battles ended in victory and it is no exaggeration to describe them as the best combat division during the Second World War.
This book therefore fills an incredible gap in the historical record and a forms a tribute, through 800 mostly unpublished photographs to this elite unit.
Charles Trang invites us once again to dive into the terrible battles of the war in the Pacific and guides us through these sometimes brutal but nonetheless indispensable documents.
A magnificently produced volume of 420 pages and nearly 800 photos. French Language
Information
Format: Hardback
Pages: 420 pages, 800 photographs
Publisher: Editions Heimdal
Publication Date: 19/01/2013
Category: Second World War
ISBN: 9782840483427