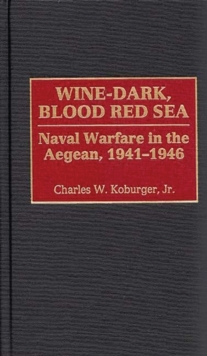 Wine-dark, Blood Red Sea : Naval Warfare in the Aegean, 1941-1946
Hardback
Description
After Italy's surrender to the Allies in September 1943, German naval forces took control of the entire Aegean, and the resulting guerrilla war in the narrow seas and littoral waters would continue to rage until the general peace.
Naval warfare in the narrow seas is different from naval actions on the high seas, requiring different types of ships and craft and different mindsets.
In the cramped and narrow inshore waters, which can easily be dominated from the shore, sea mines, shore-based air support, and small submarines play a major role.
An analysis of the battle for the Aegean provides a good example of the types of fighting the U.S.
Navy might face in a future conflict, now that grande guerre on the high seas has become more and more unlikely. In attempt to assist an embattled Greece, the British Mediterranean Fleet fought the Italians and the Germans in a valiant effort to hold the Aegean.
By the time Italy left the war in 1943, the Allies' big battalions and mighty fleets were being transferred to other more pressing campaigns, leaving behind the remaining small craft to take up the fight.
Adopting a policy of pinning down those Germans garrisoning the Aegean, the British resorted to the use of raiding and coastal forces, a tactic which would eventually force the Germans from all but their most key positions.
Information
Format: Hardback
Pages: 184 pages
Publisher: ABC-CLIO
Publication Date: 30/09/1999
Category: European history
ISBN: 9780275965716
Free Home Delivery
on all orders
Pick up orders
from local bookshops