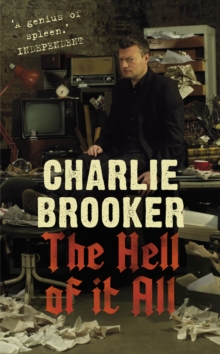 The Hell of it All
Hardback
Description
'Mankind clearly peaked about 40 years ago. It's been downhill ever since. For all this talk of our dazzling modern age, the two biggest advances of the past decade are Wi-Fi and Nando's.
That's the best we can do'. In his latest laugh-out-loud collection of misanthropic scribblings, hideous Q-list celebrity failure Charlie Brooker tackles everything from the misery of nightclubs to the death of Michael Jackson, making room for Sir Alan Sugar, potato crisps, global financial meltdown, conspiracy theories and Hole in the Wall along the way.
The collapse of civilisation has never felt this funny (unless you're a sociopath, in which case it's been an uninterrupted laugh riot since the days of the Somme).
This book is guaranteed to brighten your life, put a spring in your step, and lie to you on its back cover.
Information
Format: Hardback
Pages: 416 pages
Publisher: Faber & Faber
Publication Date: 01/10/2008
ISBN: 9780571229574
Other Formats
Paperback from £9.19
EPUB from £6.39
Free Home Delivery
on all orders
Pick up orders
from local bookshops
Reviews
Showing 1 - 3 of 3 reviews.
Review by JonArnold
16/06/2015
Brooker's third collection of writings for The Guardian (well, with the exception of a piece in the gaming appendix at the back) is more of the same as the first two volumes; a continuing symphony of frustration at the world's inadequacies. Behind the merciless, unsparing tide of sarcasm Brooker's comes across as Victor Meldrew junior, railing against injustices, inadequacies and genuine incompetence. And unlike most other newspaper opinion columnists he's got the advantages of being sane, realistic and genuinely funny. There's few journalists working in British media worth having articles collected; Brooker's style and substance make him one of the select few.
Review by gbsallery
16/06/2015
A collection of previously-emitted writings, almost all of them rather funny.
Review by Helen.Callaghan
16/06/2015
Merry Christmas to me! I'm celebrating mine by being laid off from work, waxing too footsore to get any walking in, and indulging in seasonally-affected melancholia with only a hamster and a teapot for company. In short, I'm in the best possible psychological place to appreciate The Hell Of It All by Charlie Brooker, which I should have reviewed on Friday but didn't because I chose to sit around in my dressing gown and snarl bitterly at the computer instead.* <br/><br/>I would have snarled bitterly at the TV, but happily, since I watch Charlie Brooker's Screenwipe on YouTube, I don't have to. He demonstrates convincingly that it's every bit as shit as you suspected, so you can move on with your life. He's been performing this service since the late nineties. His website TV Go Home was a wonderfully surreal mock-up of the Radio Times, featuring shows such as Grief Digestion Theatre (where actors are told that a close relative has died suddenly 18 seconds before they're due on stage), hallucinogenic synopses of Neighbours where "Toadfish rows a boat made of Disprin across a sea of piss", and ultimately, and most memorably, Cunt, where Nathan Barley, worthless twenty something trustafarian media wannabee, is described in terms of such toe-curling contempt and spleen it can induce spontaneous eye-bleeding ("Nathan Barley visits an overpriced Soho shitstack to waste £350 on a selection of ironic Christmas gifts...and a Japanese digital camera that prints photographs on marzipan-scented recycled fucking toilet paper"). <br/><br/>And Cunt is where we get off, because the rage engine that powered such eviscerating loathing for the smug meedja luvvie is the same one powering his column. Media itself is not so much reviewed as the series of lazy assumptions behind it (Heat magazine is described as the "tittering idiot's lunchbreak reading of choice" while it invites readers to make fun of Jordan's disabled son, the convenient appearance of sob story backgrounds from unlikeable Apprentice candidates is critiqued, the double barrelled titillation/empowerment nonsense of shows like "Credit Crunch Monty" where ordinary members of the public are stripped and reduced to tears to give them "confidence" is heaped with scorn). <br/><br/>Underneath it all though, there is a sense of unpleasant realisation. Someone, somewhere, is making this stuff and putting it out, and thinks that this is interesting to you. That they're taking you in. That they know who you are, that they've got your number. And the reflections are all distorted and insulting, a kind of Hall of Mirrors of calumny. This is the thing that you suspect makes Charlie Brooker angry, and before very long, you're pretty fucking angry yourself. <br/><br/>The book itself is a compilation of Brooker's column in the Guardian, so obviously it has no particular ongoing theme other than the fact that everything in the universe is rubbish, but especially the media, politicians, relationships, and himself. Oh, and spiders. Or so he'd have you believe, except that every so often he will write lyrically about the legacy of Oliver Postgate (voicer and co-creator of Bagpuss and The Clangers), or on the TV dissection of elephants, or Heston Blumenthal's Feast, and you realise that things aren't hated on principle, just when they're shit. Which is, unfortunately, fairly often. <br/><br/>But the best thing about it is the relentlessly sharp and vicious word portraits drawn in a single sentence: Alan Sugar "used to look like a water buffalo straining to shit into a lake", Richard Dawkins is "god-hating Professor Yaffle impersonator", William Hague a "cheery dot-eyed cueball". Every article is a delight, containing some new phrase or surreal idea - something to love even while it spears the thing it describes in a display of audacious cruelty. <br/><br/>And the index is a thing of beauty. Be sure to look up the phrase "might as well..." in it.<br/><br/>It may be Hell. But it is also passionate and enormous fun. <br/>