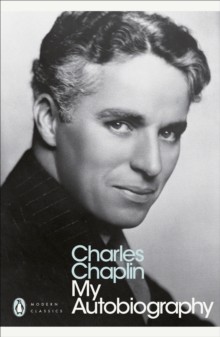 My Autobiography
Paperback
Description
A silent comedy star whose legendary slapstick routines are recognisable to this day, Charles 'Charlie' Chaplin's My Autobiography is an incomparably vivid account of the life of one of the greatest filmmakers and comedians, with an introduction by David RobinsonAs a child, Charlie Chaplin was awed and inspired by the sight of glamorous vaudeville stars passing his home, and from then on he never lost his ambition to become an actor.
Chaplin's film career as the Little Tramp adored by the whole world is the stuff of legend, but this frank autobiography shows another side.
Born into a theatrical family, Chaplin's father died of drink while his mother, unable to bear the poverty, suffered from bouts of insanity.
From a childhood of grinding poverty in the south London slums, Chaplin found an escape in his early debut on the music hall stage, followed by his lucky break in America, the founding of United Artists with D.W.
Griffith and Douglas Fairbanks, the struggle to maintain artistic control over his work, the string of failed marriages, and his eventual exile from Hollywood after personal scandals and persecution for his left-wing politics during the McCarthy Era.Sir Charles 'Charlie' Chaplin (1895-1976) was born in Walworth, London.
Best known for his work in silent film, his most famous role was The Little Tramp, a universally recognisable and iconic character who appeared in films such as The Kid (1921), The Gold Rush (1925) and City Lights (1931).
His other films include Modern Times (1936), a commentary on the Great Depression, and The Great Dictator (1940), a satirical attack on Hitler and the Nazis.If you enjoyed My Autobiography, you might like Andy Warhol's The Philosophy of Andy Warhol, also available in Penguin Modern Classics.'Tells so much about this curious, difficult man ... a wonderfully vivid imagination'The New York Times'The only genius to come out of the movie industry'George Bernard Shaw
Information
Format: Paperback
Pages: 512 pages
Publisher: Penguin Books Ltd
Publication Date: 25/02/2003
Category: Individual actors & performers
ISBN: 9780141011479
Free Home Delivery
on all orders
Pick up orders
from local bookshops
Reviews
Showing 1 - 5 of 6 reviews.
Previous | Next
Review by kanadani
16/06/2015
A well-written and intriguing window into this complicated man, this auto-biography tells much of Charlie Chaplin's background as well as some of his introspective character. What I found most interesting was what he didn't discuss, either out of respect for those still living or because it involved something he did not wish to dwell. Interesting mentions was his second wife, Lita Grey, the Hearst yachting incident, and the almost complete omission of the making of The Circus. All in all, it was a most interesting read. I would recommend it to anyone interested in Chaplin.
Review by elliepotten
16/06/2015
What a fantastic book! All you 20-something wannabes (Kerry, Chantelle, I mean you) take note – this is how an autobiography SHOULD be written: at the end of a long, fulfilling and fascinating life, not after a normal childhood and ten minutes on a reality TV show.This is a sweeping and beautifully written story covering the entire span of Chaplin's life as it stood at the time of writing, from his poverty-stricken London childhood and his early theatrical career, through the evolution of Hollywood and the development of his most famous and well-loved character, the 'Little Tramp', to his dazzling rise to fame and fortune, his brushes with the harsh face of American politics, and his final escape to Switzerland with his wife Oona and their large family, where he remained until his death in 1977.Not only is this a wonderful journey through the world of theatre and the development of the film industry, it is also overflowing with interesting people, places and anecdotes. His was a golden era of sparkling society in which the aristocracy and the intellectual elite mixed on equal terms and travelled frequently. Thus Chaplin can legitimately name-drop a veritable wealth of friends, acquaintances and casual meetings, from Albert Einstein to Winston Churchill, Lord and Lady Mountbatten to John Steinbeck, Rachmaninov to Picasso. On top of all that there is a meandering thread of personal philosophy, politics and considered opinion, all of which come together to form a rounded picture of someone whose genius could otherwise have become buried under his comedy. I picked up the book on the strength of the film 'Chaplin' (starring Robert Downey Jr.), which I fell to watching on television one day and watched to the end, finding myself captivated by the life of this unique, intelligent little man and his consuming interest in entertaining the masses with his films, of which he was writer, director, composer, actor and everything in between. I have never seen a Chaplin film in its entirety, but after reading his autobiography I have a list of movies to see and enough knowledge to fully appreciate them. I didn't want the book to end, long though it may be, and as I closed its pages I was reminded of Truman Capote's famous remark about finishing a book being like you've taken a child out in the yard and shot it. That feeling of looking at your bookshelf, wondering what on earth could top that? Oh, and in case you were wondering – Capote gets a name-drop too…
Review by nicky_too
16/06/2015
I have read a lot of books, but none of them grabbed me like this one. Eventhough Mr Chaplin used quite a lot of 'big words' in his autobiography (he taught himself to be more eloquent) it's still a very easy read. His style is simple and honest. His emotions show through everything he wrote.And that's this book's greatest strength.After reading it I feel I almost know the man and that is quite a feat. Often I found myself laughing out loud (very embarrassing in a busy train) and sometimes I had a lump in my throat or tears in my eyes.I now see him as a very emotional man, a bit soft, but persistant, honest and open (which got him into trouble sometimes) who never forgot his origins. Overall the book is quite positive.Others have complained about the lack of technicalities in this autobiography. Charlie should have explained how he made his films. Nonsense! This book is exactly what it should be: an autobiography, not a manual. This is about the man and that's exactly what I wanted to know.It's a fantastic read and I would recommend it to anyone.
Review by edwinbcn
16/06/2015
The closeness of "no speech" and "dumb" is so near, that in conjunction with the image of the silliness of the characters, prortrayed by Charles Chaplin it is easy to believe that Chaplin was a simpleton. The autobiography proves any such believer wrong.The epithet Dickensian is sometimes applied to the autobiography of Charles Chaplin as Chaplin, born in 1889, was born in, and therefore considered belonging to, the Victorian Age, and because his childhood in London of poverty and hardship so closely resembled that of some characters in Dickens' novels. Born into a family of actors, Charles Chaplin soon started his career on the stage, with limited success, initially, in London and Paris.The "birth" of the classical character "the tramp" does not happen until p. 145, where it is described as a purely coincidental result of improvisation. The largest part of My autobiography deals with the spectacular career Chaplin made in the United States, from being an actor, improvising and personalizing typical gigs to the development of his own film studios. The history of many of Chaplin's movies is described in detail in the context of both the historical background and the cinematographic inventions.Towards the end of his life, Charles Chaplin was a respected man, and on close terms with the jet-set of all continents. He could not stay in the United States, because of his sympathies for socialism, and his escape, securing his assets is one of the most exciting parts of the autobiography.My autobiography is a fascinating time document, chronicling the life of a film icon we all know. At nearly 500 pages, it is an extremely well-written piece of history, which is never dry or boring, although a certain interest in film and the business of film and film studios helps. I was never bothered by Chaplin's language, and felt his prose style was entirely natural, and appropriate. As the author of his own screen plays, a fact not often highlighted, My autobiography is another text which is well worth reading, allowing readers a peek into Chaplin's life and a wonderful reading experience of an autobiography belonging to the best pieces of autobiographical writing in the Twentieth Century.
Review by thereaderscommute
16/06/2015
One of the most interesting autobiographies I've ever read - although, I adore Charlie Chaplin, so I may be biased.
Also in the Penguin Modern Classics series | View all