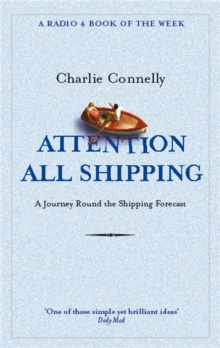 Attention All Shipping : A Journey Round the Shipping Forecast
Paperback
Description
This solemn, rhythmic intonation of the shipping forecast on BBC radio is as familiar as the sound of Big Ben chiming the hour. Since its first broadcast in the 1920s it has inspired poems, songs and novels in addition to its intended objective of warning generations of seafarers of impending storms and gales.Sitting at home listening to the shipping forecast can be a cosily reassuring experience. There's no danger of a westerly gale eight, veering southwesterly increasing nine later (visibility poor) gusting through your average suburban living room, blowing the Sunday papers all over the place and startling the cat.Yet familiar though the sea areas are by name, few people give much thought to where they are or what they contain. In ATTENTION ALL SHIPPING Charlie Connelly wittily explores the places behind the voice, those mysterious regions whose names seem often to bear no relation to conventional geography. Armchair travel will never be the same again.
Information
Format: Paperback
Pages: 384 pages
Publisher: Little, Brown Book Group
Publication Date: 05/05/2005
Category: Travel writing
ISBN: 9780349116037
Free Home Delivery
on all orders
Pick up orders
from local bookshops
Reviews
Showing 1 - 3 of 3 reviews.
Review by BoPeep
16/06/2015
A journey around the Shipping Forecast, somewhat in the manner of Tim Moore's Now Pass Go (about the Monopoly board). Well-written and genuinely interesting, it made me laugh out loud several times on the M6. Which can't be bad.
Review by Oreillynsf
16/06/2015
An American reader like me has a tougher time understanding the importance of the Shipping forecast in the UK, but this interesting book provides a unique perspective on people and places surrounding the UK. Connelly's travels around every sector of the Forecast provide a funny look at people and places. I was quite impressed by the quality of the writing and storytelling - but for my American eyes, the concept clearly held less promise than for other (UK) readers.
Review by Eyejaybee
16/06/2015
As I had borrowed this book from my good friend Mark Stockdale, i really wanted to be able to say that it was my second favourite book about the Shipping Zones (as part of a long-running private joke). Sadly I can't say that with any honesty as the only other book I have read about the shipping zones was Peter Jefferson's woeful 'And Now The Shipping Forecast' which snatched defeat from the jaws of victory by contriving to render a potentially fascinating subject simply facile.Connelly also treats the subject with a certain degree of humour but brings far greater knowledge to his account and readily captures the reader's empathy. Having been fascinated by the mantra-like recitation of the Shipping News he found himself being persuaded to sail around all the different zones. The idea sounds absurdly simple, though his journey was to prove anything but easy, but the adversities that he encountered, and overcame, lend a gritty core to this entertaining tale.He is not a great literary stylist but he does convey his story with lucidity and coherence, and it captured my attention right from the start.