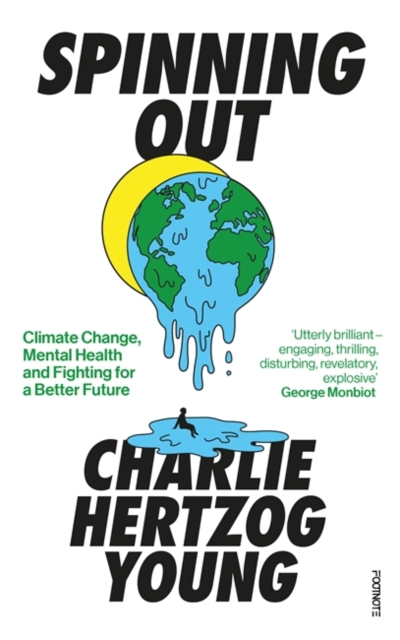 Spinning Out : Climate Change, Mental Health and Fighting for a Better Future
Paperback / softback
Description
'Utterly brilliant - engaging, thrilling, disturbing, revelatory, explosive' GEORGE MONBIOT'This extraordinary book, written with startling honesty and vulnerability, traces Charlie Young's remarkable journey from deep despair to resistance, reconnection and remedy.
If you are ready to channel grief within into action in the world, read on.' KATE RAWORTH, author of Doughnut Economics: Seven Ways to Think Like a 21st-Century Economist'Spinning Out is a salve, weaving together the intricacies of madness underscored by the backdrop of a changing climate.
It's an essential and insightful resource in the fight for climate justice.' TORI TSUI, author of It's Not Just You'Heart-rendingly, heart-stoppingly glorious' MANDA SCOTT, author of bestselling Boudica seriesHumanity is driving the earth mad.
Now, the earth is driving us mad in return. Charlie Hertzog Young became a climate activist in his early teens.
His journey led him onto airport runways and into the halls of power, but also to a serious mental health breakdown.
He had to rebuild himself physically and psychologically, before focusing his efforts on collective mental recovery in response to a planet in crisis. Spinning Out explores how climate chaos and the failure of those in power to tackle it are causing an inevitable mental health crisis across the globe.
The relationship between the climate and our emotional wellbeing goes far deeper than eco-anxiety.
It goes to he roots of our civilisation - its principles, its practices and its false solutions. With testimony from dozens of activists, organisers and researchers across every habitable continent, Spinning Out is a celebration (of other ways to be) and a manual for anyone who wants to fight for a better world, while avoiding burnout and despair. Wedding the needs of the earth with the needs of the human mind, Spinning Out offers a powerful, collective vision for change.
Information
Format:Paperback / softback
Pages:272 pages
Publisher:Footnote Press Ltd
Publication Date:22/06/2023
Category:
ISBN:9781804440315
Information
Format:Paperback / softback
Pages:272 pages
Publisher:Footnote Press Ltd
Publication Date:22/06/2023
Category:
ISBN:9781804440315