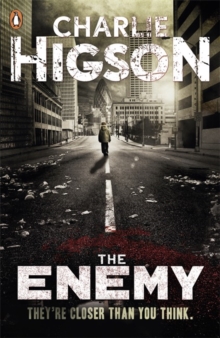 The Enemy
Paperback
Part of the The Enemy series
Description
Charlie Higson's The Enemy is the first in a jaw-dropping zombie horror series for teens.
Everyone over the age of fourteen has succumbed to a deadly zombie virus and now the kids must keep themselves alive.
When the sickness came, every parent, police officer, politician - every adult fell ill.
The lucky ones died. The others are crazed, confused and hungry. Only children under fourteen remain, and they're fighting to survive.Now there are rumours of a safe place to hide. And so a gang of children begin their quest across London, where all through the city - down alleyways, in deserted houses, underground - the grown-ups lie in wait.But can they make it there - alive?'Higson has got the balance of blood and gore just right' Daily Mirror'Clever...fast-paced...inventive' GuardianCharlie Higson is the author of the bestselling Young Bond series of novels for young readers, including Silverfin and Double or Die, and the spine-tingling, teen zombie-horror series The Enemy.Can't wait for the next instalment?
This edition contains the first chapter of the mind-blowing first chapter of the second book The Dead.Check out www.the-enemy.co.uk for more blood, more zombies and more terror.
Information
Format: Paperback
Pages: 432 pages
Publisher: Penguin Books Ltd
Publication Date: 03/06/2010
Category: Horror & ghost
ISBN: 9780141325019
Other Formats
Paperback from £7.09
EPUB from £4.99
eAudiobook MP3 from £8.00
Free Home Delivery
on all orders
Pick up orders
from local bookshops
Reviews
Showing 1 - 3 of 3 reviews.
Review by DeltaQueen50
16/06/2015
I feel rather guilty that I liked The Enemy so much. It's an in your face, dark, violent thriller about children surviving and fighting with zombies that I found extremely gross yet very satisfying. With it's fast pace, alternative viewpoints and awesome London setting this was a true page-turner. It's been a long time since I've read a book that actually scared me, this book reminded me of watching horror movies with a pillow held closely to cover my face at the scary parts.There was a epidemic that infected only adults, most died, but the ones who didn't became flesh craving zombies. Children learned quickly to band together in order to fight for their survival. In this, the first book of the series, we follow the adventures of a group of children that have been living in a fortified grocery store. They are slowly losing members of their gang and realize they need to move on somewhere safer. During a zombie attack, they save a boy who tells them about a place of safety and they decide to risk the trip across London to get to this haven.I realized early in the book to beware of getting too attached to any of the characters, they are indiscriminately killed off, which for me, added to the thrill. Never knowing who was going to survive hyped the book up another notch. A warning however, this book does have vivid and very brutal violence, lots of blood, guts and gore, which, if you are reading a zombie book is probably what you expect. I found The Enemy extremely addictive and I can't wait to get my hands on the next book.
Review by fluteflute
16/06/2015
I picked this book up in a hurry, not really reading the blurb, but instead choosing it because I had enjoyed a few books from the author's Young Bong series. After reading the first few pages I was regretting the choice - the slightly gory "zombie" theme is not an area I have previously read anything from, and I had no desire to start! But Higson kept me reading, and I gradually warmed to the plot and predicament of the various characters. I may well end up reading the others in the series.
Review by ArkhamReviews
16/06/2015
For a fan of gore and violence, The Enemy certainly has a lot to offer. For a Young Adult novel, it is incredibly nasty. Nothing is left to the imagination and every death is portrayed down to its most horrible detail. If you are a fan of horror stories that contain nothing but blood and filth, you will probably find something to enjoy in The Enemy. If you are in any way squeamish, there is no point in even picking it up.For the more discerning reader, there is nothing of real interest here. The story feels incredibly unbalanced, altering its own rules frequently for plot convenience, and all of the characters are flat and hardly develop as they story progresses.All in all, the novel read as more a prologue for the series than a story in its own right and lacked any kind of satisfactory conclusion. I hope that it actually develops into a story in later volumes.