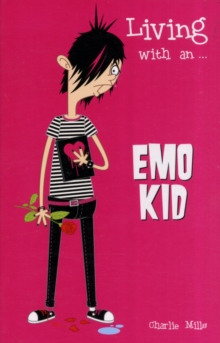 Living with an... Emo Kid
Paperback
Description
What is emo? And what has it done to my teenager?It can be hard, living with an Emo Kid.
Permanently hidden behind their long black fringe, the most you get is a sullen, 'Leave me alone,' when you ask them how their day was.
Constant misery seems to be their habitat and your every effort to show them that the world can be a sunny place is met with a wail of, 'You just don't understand me!'Well, not any more, Emo Kid!
Inside this book, you - the parent, sibling or friend of an Emo Kid - will find all the helpful advice you need to learn how to live happily (or miserably, if that's what they prefer) ever after with your personal Emo Kid.This handy guide will introduce you to the world the Emo Kid inhabits - understand their clothing choices (such tight jeans!
Eyeliner on boys!), discover their mating habits (short romance followed by long angsty break-up, perfect inspiration for mournful poetry), learn to interpret their music (it's not just a load of loud wailing!), know what to say to get through to them and, most importantly perhaps, learn how to really embarrass one.Jam-packed with helpful advice and tips, this book has everything you need to know about the world of emo and reading it will make you an expert on everything it has to offer. Who knows - by the end of the book, you could even be a little bit emo yourself!
Information
Format: Paperback
Pages: 80 pages, 15 original illustrations
Publisher: IMM Lifestyle Books
Publication Date: 25/09/2008
Category: Family & relationships
ISBN: 9781847732736
Free Home Delivery
on all orders
Pick up orders
from local bookshops