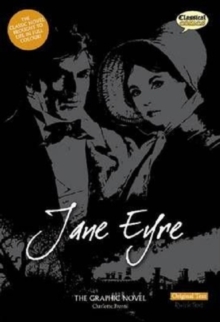 Jane Eyre : Original Text
Paperback
Description
This Charlotte Bronte classic is brought to vibrant life by artist John M.
Burns. His sympathetic treatment of Jane Eyre's life during the 19th century will delight any reader with its strong emotions and wonderfully rich atmosphere.
Travel back to a time of grand Victorian mansions contrasted with the severest poverty and immerse yourself in this love story.
It is presented in full colour graphic novel format wonderfully illustrated by legendary artist John M.
Burns. It meets UK curriculum requirements. Teachers notes/study guides for KS2/KS3 available.
Information
Format: Paperback
Pages: 144 pages, 708
Publisher: Classical Comics
Publication Date: 29/09/2008
Category: Classic fiction (pre c 1945)
ISBN: 9781906332068
Free Home Delivery
on all orders
Pick up orders
from local bookshops
Reviews
Showing 1 - 3 of 3 reviews.
Review by brochettes
16/06/2015
This one was something different for me, as I am not generally a reader of graphic novels. I have read and enjoyed Jane Eyre in its original form more than once, so was there much point for me to read this in graphic novel format? Yes and no: I certainly enjoyed coming across a well-loved book from a slightly different perspective, and, like watching a TV or movie adaptation, it was interesting for me to see what was included and which parts of the original had to go for reasons of space and readability. On the other hand, I don't think that as someone who is already familiar with the novel I am really the target audience for this.In terms of editing, I feel that they did a pretty good job- I don't think anything important from the original was left out, and generally the book was fast paced and kept the reader engaged. There were a few times where I felt that a bit of background information should have been given, as I think the jumps between certain scenes may have been a bit abrupt for someone not familiar with the material. Still, I think this is an excellent way of introducing someone to a classic who is reluctant to tackle the lenghty original, and it may even encourage them to read the actual novel after this. The fact that text from the original novel was used in this edition made it more enjoyable for me, but I am not certain how a young reader who was possibly put off reading the original because they found the language inaccessible would feel about this. Altogether, while this was hardly a revelation to me, I had an enjoyable couple of hours going over this, and I think that this can definitely be used as a positive tool in an educational context.
Review by PensiveCat
16/06/2015
So there is an easy and entertaining way to read a classical, Victorian novel in one evening! I knew it!I've read a number of Bronte books, as well as a great deal of novels from that time period - it takes patience and time, but it's nearly always worth the effort. The quandary of my life was the inability to read Jane Eyre from cover to cover. Well, it didn't help that I'd seen a television adaptation a while back - the ultimate spoiler. Here is a solution for the spoiled and the impatient. It's also a good middle ground for people like me, who actually finds it more difficult to read most graphic novels than long, ponderous, classical ones. It was easy to follow the dialogue, even in Original Text (some of the "Classical Comics" are written in Quick Text and Plain Text, which is even easier for modern readers). The artwork was gorgeous, and just fanciful enough for Charlotte Bronte herself to approve of. I look forward to reading (and looking at) more of these adaptations. Shakespeare should be good.By the way, Jane Eyre is about a girl from a sad upbringing who becomes a governess and forms an attachment to the man of the house. There's madwomen and fires, and inheritances. Fantastic.
Review by kalypso219
16/06/2015
I found this to be a very enjoyable graphic novel. Jane Eyre is a favorite of mine. I've read it many times and, for its size, the graphic novel did a good job retelling the tale. In addition, I thought the novel was beautifully illustrated throughout. There are portraits at the beginning showing each character and explaining who they are, and at the end there is a section with biographical information about Charlotte Bronte's life. This would be a great to use in schools to introduce older kids to classic literature.