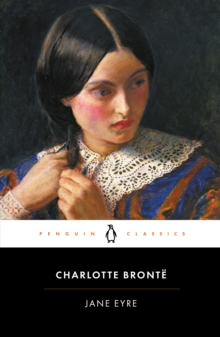 Description
Orphaned Jane Eyre grows up in the home of her heartless aunt and later attends a charity school with a harsh regime, enduring loneliness and cruelty. This troubled childhood strengthens Jane's natural independence and spirit - which prove necessary when she finds a position as governess at Thornfield Hall.However, when she finds love with her sardonic employer, Rochester, the discovery of his terrible secret forces her to make a choice. Should she stay with him and live with the consequences, or follow her convictions, even if it means leaving the man she loves? A novel of intense power and intrigue, Jane Eyre (1847) dazzled and shocked readers with its passionate depiction of a woman's search for equality and freedom.if (SYM == "SYN") { document.writeln("");} else { document.writeln(" ");}
Information
Format: Paperback
Pages: 624 pages
Publisher: Penguin Books Ltd
Publication Date: 29/06/2006
Category: Classic fiction (pre c 1945)
ISBN: 9780141441146
Other Formats
Hardback from £9.69
Paperback from £2.50
Mixed media product from £40.85
CD-Audio from £11.05
Free Home Delivery
on all orders
Pick up orders
from local bookshops
Reviews
Showing 1 - 5 of 40 reviews.
Previous | Next
Review by soylentgreen23
16/06/2015
I read this to make sense of "Wide Sargasso Sea." It helped, certainly, but it crushed whatever hope I had of enjoying Jean Rhys's work: you see, "Jane Eyre" was a pleasure to read, and the kind of book I tend to enjoy. It tells a good story in a very pleasing manner; I'm not especially keen on books that want to prove their cleverness by switching narrators and presenting dreams as reality. Just tell me a good story - that's much more important.
Review by carmilla222
16/06/2015
I love this book. The first time I read it, I didn't really understand a lot of it and didn't think it was very good. But I revisited it in college, and now I re-read it all the time. Charlotte Bronte is adept at revealing just the right amount of information to keep the story interesting and tense. It is called a gothic novel, but unlike other gothics that I've read, this one is interesting even when it's not actively engaged in the solving of the mystery or the creepy goings-on.
Review by NicoleHC
16/06/2015
Good, but not as good as her sister's novel.
Review by rainpebble
16/06/2015
Jane Eyre by Charlotte Bronte; 5 starsOne of THE best books I have ever read or in this case reread.Jane is a poor orphan fobbed off at a very early age on a nice uncle & a bitchy aunt who have 3 abominable children. The uncle dies but makes his wife promise to always keep & care for Jane. That lasts a few miserable years until the aunt, through correspondence, finds a poorly run boarding school for Jane that will keep her holidays as well. She wants never to see her again.So Jane goes to the boarding school where she works hard, learns well, is always hungry & often cold. She remains there studies hard & becomes a teacher there for an additional 2 years at which time she posts an advertisement for a position as governess.She is hired by a Mrs Fairfax of Thornfield to become governess to a young girl, Adelle, who is a ward of the owner of Thornfield but the Master is rarely there. Jane is very happy in her new position but when the Master returns home she cannot help falling in love with him. She keeps this close to her vest. Little does she know that he has fallen in love with her as well.In her room at night, Jane begins to hear strange cries, howls & noises from overhead. She knows that there is someone up on the 3rd floor but is told that it is a servant who keeps mainly to herself and indeed she does see Mrs. Poole occasionally going to & from that floor carrying items.When Jane learns who is actually living in that upper abode she is heartbroken and feels she cannot remain. So the girl takes the poor things she arrived with and the few pennies she has and leaves, catching a coach that will take her as far away as her funds will allow. As she is let off the coach she forgets her little bundle and now all she has are the clothes on her back.Jane walks & forages for food for about 3 days. She looks for work, finding only rejection. She begs food and is given bread crumbs. Finally one stormy night when she is so poorly she feels she can go no further she sees a light in the distance. She follows the light and comes upon a cottage in the wood where as she looks through the window she sees 2 young ladies that she is sure are sisters, for they look so much alike, and an elderly lady that she assumes is their mother, guardian or servant. She knocks on the door, is turned away & the door shut upon her. Jane is so ill, weak & weary that she collapses on the stoop. The next thing she is aware of is a gentleman coming upon her, & helping her into the warm kitchen where now she is fed some warm milk & bread & is taken up to a warm bedroom, changed into dry sleeping clothes and put to bed where she remains ill & out of her head for several days. She is cared for by all of the inhabitants of the house. As she begins to get stronger she is allowed to sit up and eventually she feels well enough to get up, dressed & go downstairs where she joins the servant in the snug, warm kitchen.She is accepted by this family and kept there for some time. The gentleman, who is a brother to the girls, finds work teaching for her along with a wee cottage of her own.She lives thus for some time. I will stop here, dear reader, for to go on would tell you more than you would wish to hear at this point.This is one of the best books I have ever read and I very highly recommend it to young and old alike.
Review by zibilee
16/06/2015
When Jane Eyre's parents die unexpectedly when she is only an infant, she's benevolently taken in by her maternal uncle to live amongst his small but wealthy family. But when said uncle dies as well, it's left up to her aunt to raise the girl, whom she despises and treats rather cruelly. After one particularly difficult incident between Jane and her aunt, the woman decides to place Jane in a stringent and horrific school for orphan girls, where Jane initially wilts and suffers but somehow rallies and becomes an instructor there after many years of residence. When Jane finally decides to move on, she finds employment as a governess at Thornfield Hall, the manor house of Mr. Rochester, and begins life anew. Mr. Rochester, aside from being rather homely looking, is an eccentric with calumnious mood swings that initially shock Jane, but soon she learns to find harmony and pleasure in his company. As her time with Mr. Rochester grows, Jane begins to feel the first stirrings of romantic love, which is new and strange to her, as she has been somewhat sheltered from this particular emotion all her life. But it seems Mr. Rochester has another woman at the center of his designs, and though there's no doubt he feels strongly for Jane, the future between them is uncertain. Through joys, sorrows, surprises and mystery, Jane and Rochester find themselves at last together. Just when it seems that all is well and their story will draw to a close, a strange and disastrous complication arises and leaves Jane fleeing her once secure home and the light of her life. As Jane now finds herself at the mercy of strangers, she becomes involved in a rather strange predicament with a man named St. John Rivers. Will Jane and Rochester ever find their way together after the horrible discovery that has separated them so painfully, or will Jane move forward into a very different and alien life, forgoing the only love she has ever known to become only a survivor in a landscape of loss? In this classic and remarkable piece of literature, Charlotte Bronte creates two of the most beloved and wondrous characters in all of literature and forms around them a Gothic Victorian narrative of remarkable imagination and triumph.Initially I had been hoping to read A Tale of Two Cities for my February classic choice, but when I saw that the wonderful Marie over at Boston Bibliophile was hosting a Jane Eyre read-along for February and that the new movie version was slated for release in March, I changed my plans and made it my choice for this month. Sorry Charles! I have to say that although my expectations of this book were really rather high, I found that they were totally surpassed in every way by the actual realities of this book. I've read classics in the past that just left me sort of tepid, but this book excelled in every area in which I could have thought to place it.Jane in herself was a rather extraordinary heroine. Though ill-used and harshly judged for most of her life, she doesn't revert into periods of self pity and self loathing. Rather the opposite, in fact. She becomes self-sufficient, observant and independent. I got a little angry with the fact that everyone called her ugly and plain all the time, and took offense to it mightily. Jane was so much more than her outside wrapper suggested and it was only the strange and passionate Mr. Rochester that ever took the time to notice that. The realities of her life were harsh and unpleasant, but instead of bowing down and succumbing, Jane learned to blossom under her own care and confidence. She was constantly questioning, seeking and learning, and the more her personality began to flourish, the more admiring I became of her. Jane had a persistence and strength in her character that I very much admired. No matter what the fates threw at her, she was remarkably placid and yielding towards it. From her time as an orphan up until the final sections of the book, she was constantly searching for a home in which to shelter her heart, and it seemed none was to be found. As she makes her way through her solitary world, she never loses her high morality, and more than once this causes her to sacrifice the ease and happiness that she would obtain by leaving it behind. Though she's not a traditionally stringent religious woman, she has her eye set on the Christian ideals of life and often spends time praying and considering God. At times she could be a little inflexible and prudish, especially when it came to how she dealt with Rochester and his proposed plans, but overall, I found her to be a rather complex and spirited person with a unshakable moral compass.Rochester was another animal indeed. At first cold and aloof, he seems to manifest his passion on Jane quite suddenly, and is rather inflamed by it. An inflamed Rochester is sometimes a scary thing, and more than once I wondered if Jane was getting in over her head. In parts of the book I didn't like his all-consuming passion, but underneath it all I felt he was indeed right in being so passionate in his feelings for her. I think the disconnect came in the way he expressed himself. He could at times seem overwhelmingly controlling and demanding. I wavered between feeling that he was too pushy and self centered, and feeling that he was protective and loving in just the right degree. But Jane's reluctance to submit to his will when events took an unexpected turn made me a little scared because his passion bordered on the violent at times. Do I think he would have been violent towards Jane? No. But his speech at these times made me think him a little overwrought by passions he couldn't quell. I also didn't like that he was deceptive towards Jane more than once in the story, and these deceptions revolved around his suiting his own ends. When Jane flees him, I felt a curious feeling of relief and sadness, because while I think she definitely did the right thing, I knew no man would ever love her the way he did and was unsure if they would ever be together again. I'm happy to say that towards the end, Mr. Rochester does indeed become less agitated in his passion, which made me a lot more comfortable with him as a whole. He was a great character and I felt torn about my perceptions of him for most of the book. I wanted to fully embrace him the whole way through, but like Jane, I had reservations that kept me from doing that.Though this book is ostensibly a love story, it also spends much time on the life Jane lives before meeting Rochester. It goes into great detail about her life at the hands of her abusive aunt and her period at the orphans' school. Though these parts were what led to the major crux of the story between Rochester and Jane, they were also fully engaging and did a lot to flesh out Jane's character and the adversity she faced. While I enjoyed the time that delved into the relationship between Jane and Rochester, I felt these other sections really honed in on who Jane was as a person and how her character was formed.There was also a section given over to Jane's life after leaving Rochester, and here was another example of a life that was stringent and without real love and affection, only tolerance. These sections were no less passionate, only in a different scope and degree. In the majority of these sections we see Jane as being downtrodden and excluded, as well as living under harsh privations. What's interesting about these two sections is that her light still shines just as brightly, but what that light reflects is a sinister quality of life that has trapped her in its barbs. I admired her greatly as she fought through it all and felt that if there was some degree of justice, she would one day break free, which I was pleased to discover that she did.I have to admit this book was a pleasure to read for a lot of reasons. Not only was the story filled with unexpected twists and turns, it was accessible to modern readers and had a great level of tension and suspense running through the narrative. I may have cried a little while I was reading the story of Jane and her life, and it's unusual for me to cry over the books I read. If you haven't given this book a chance, I must say that you're missing out on a brilliant story and a character that seems so far beyond her times that it's genuinely surprising. It was a wonderful read all around and I admired it greatly.