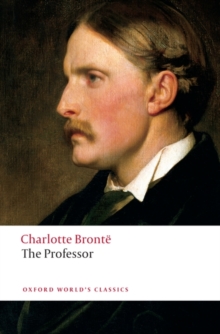 Description
The Professor (1845-6), written before Jane Eyre, challenged contemporary expectations of the novel by its brevity, realism, and insistence on a working career both before and after marriage for its hero and heroine.
Strikingly up to date for its period, the action begins against a background of the fight for better factory conditions in the 1830s, and finishes in the early 1840s with the spread of liberal ideas which led to the continental revolutions of 1848.
This edition is based directly on the author's fair copy manuscript, and also includes 'Emma', Charlotte Bronte's last, unfinished attempt to write a novel after Villette.
ABOUT THE SERIES: For over 100 years Oxford World's Classics has made available the widest range of literature from around the globe.
Each affordable volume reflects Oxford's commitment to scholarship, providing the most accurate text plus a wealth of other valuable features, including expert introductions by leading authorities, helpful notes to clarify the text, up-to-date bibliographies for further study, and much more.
Other Formats
Paperback from £2.50
Hardback from £11.25
EPUB from £0.99
Paperback / softback from £15.85
Free Home Delivery
on all orders
Pick up orders
from local bookshops
Reviews
Showing 1 - 2 of 2 reviews.
Review by joririchardson
16/06/2015
First of all, what I thought of this book was not influenced by "Villette," and neither is this review. I have not, as of now, read that particular Bronte volume yet (horrible, yes, I know...), so I will be reviewing this book without the comparison that everyone else places on it."The Professor" is about the young man William Crimsworth, who eradicates himself from a job working at his arrogant brother's business and goes to Belgium to become a professor. There, he meets Zoraide Reuter, the headmistress of the school, a woman who hides a conniving nature behind her charm. He also meets Frances Evans Henri, an intelligent young woman who is also one of his pupils. As he becomes closer to Frances, a jealous Zoraide schemes to remove her from the school.I loved the writing style of this book. It was delicate and precise, but not feminine of flowery. I appreciated the fact that it was told from a wholly male perspective, as I tend to find that books written during this period are a bit too laced with dramatic fainting and exclamations - something that this one kept to a minimum thanks to the stoic, practical nature of its main character. I found the male voice a refreshing change.I also loved the character of Zoraide, though I wish that she had been emphasized more thoroughly. She relies on her charm - which she is proudly all too aware of - to get her through her life. I also found it interesting that she apparently needs male attention in order to thrive, and enjoys having every man obsessed with her. Even while she has another lover, she cannot resist enticing William to fall in love with her. She offers up offended denial when the other man accuses her of flirting with William, and offers up further offended denial when William accuses her of being involved with someone else. Perhaps her need for attention and lust are attributed to her age, and fading beauty. Though Zoraide is an interesting character in this book, she isn't exactly a very large part of it. She is involved in the plot certainly, but she disappears shortly after William shifts his attentions to Frances. She is conveniently married off and swept out of the story, which disappointed me.That leads me to another point - the back cover of this book led me to believe that the story involved a love triangle of sorts. It does not. William's future love interest, Frances, does not enter the story until half-way through or more, and by then, Zoraide has been largely forgotten. Even though not completely eradicated from the plot (yet), William certainly has gotten over all traces of romantic interest in her.*Spoilers...*I also disliked the ending chapters, which describe life years, decades after William and Frances have married. They now have a son, are living pretty near happily ever after... And so on. Some scenes about William's son are given, but I wish that the book would have just ended with William and Frances marrying. I felt that the following scenes, which recounted mundane and very ordinary home life, took away from their love story.So, in short, while I loved some of the characters and the style that this book was written in, the plot simply had too many flaws for me to consider it anything beyond average.But at least I have Villette to look forward to!
Review by feelinglistless
16/06/2015
In The Professor, one of Charlotte Bronte's earliest novels, which despite many revisions wasn't published until two years after her death, a Yorkshire mill clerk describes fleeing to Brussels where he takes up employment as an English teacher. He falls briefly under the spell of the older Directoress but ultimately builds a fruitful marriage with one of his pupils. The density of descriptive passages make this a difficult but rewarding read, its loose structure pre-figuring the post-modern. Bronte had in mind the buck the trends of that era's novelists by providing a realistic approach to characterisation and narrative, which was too new for potential publishers who all rejected it outright. What they missed is how the novel captures the sheer fecklessness of the male heart, seeking acres of meaning in a girl's otherwise innocuous glances and how we might think we're in control, but we're really not.
Also in the Oxford World's Classics series | View all